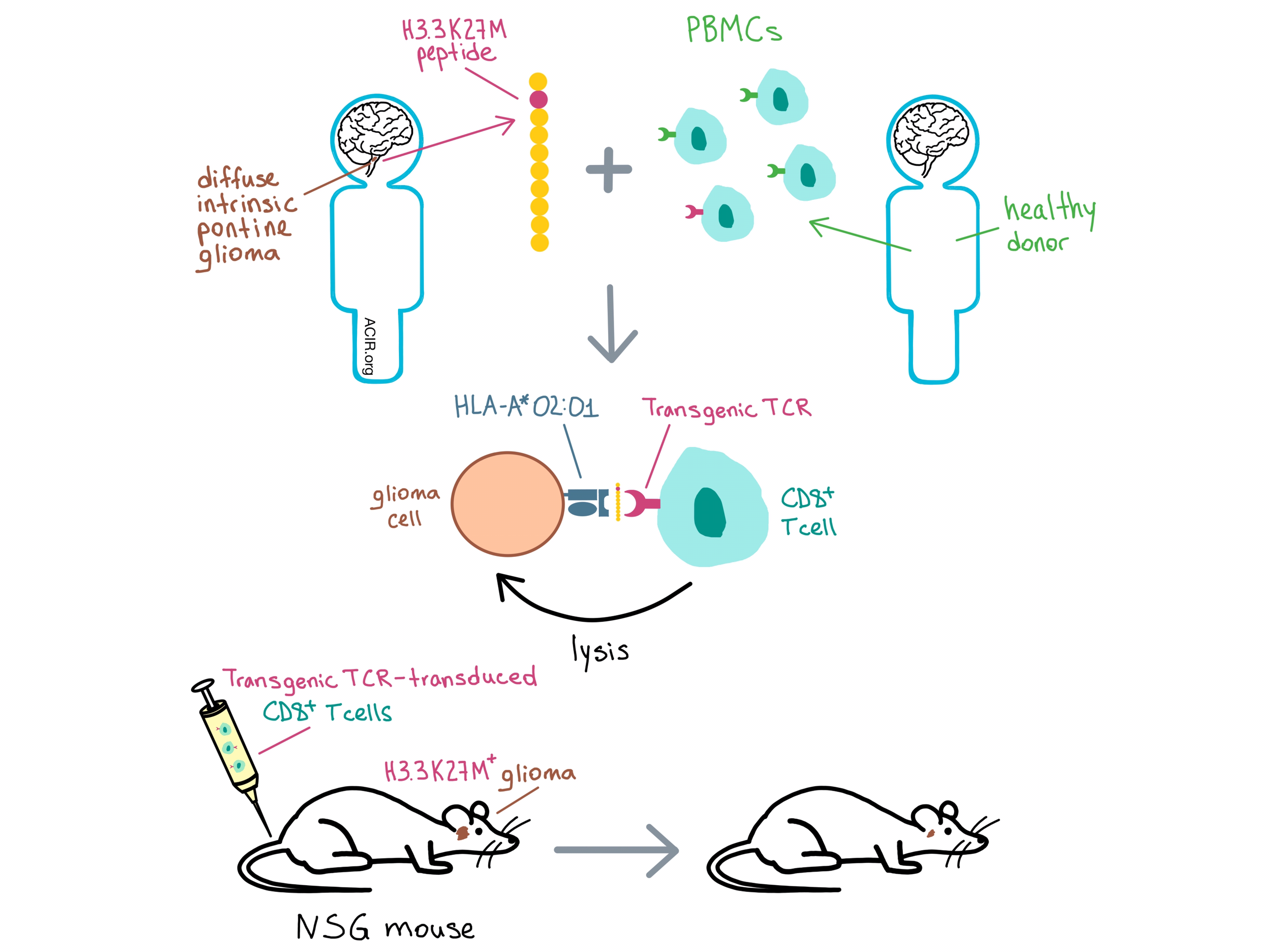 For children with diffuse intrinsic pontine glioma (DIPG), current treatment does not offer much hope – median survival is less than 10 months. Chheda et al. aspire to improve this outlook by targeting glioma with immunotherapy. In their paper, published in Journal of Experimental Medicine, the researchers developed a transgenic TCR T cell approach specifically targeting an epitope containing the H3.3K27M mutation, which is found in over 70% of DIPG patients and leads to abnormal gene expression, contributing to or causing an oncogenic phenotype.
Chheda et al. utilized the NetMHC bioinformatics tool to predict that a mutation-containing H3.3K27M26-35 10-mer would bind the HLA-A*02:01 molecule with high affinity, but the corresponding H3.3 wild-type (H3.3.WT) peptide would not. Predictions were confirmed using a competitive inhibition assay. The H3.3K27M peptide did not strongly bind with any other HLA-A2 subtypes tested, suggesting that this neoantigen epitope is HLA-A*02:01-restricted. To confirm that the H3.3K27M peptide was produced and presented by glioma cells, the team utilized LC-MS/MS and demonstrated detection of the mutated peptide.
Having confirmed the peptide presentation, the researchers looked for an antigen-specific response in patient T cells. Peripheral blood mononuclear cells (PBMCs) from HLA-A*02:01+ DIPG patients and healthy controls were stimulated with H3.3K27M, H3.3WT, a flu peptide (positive control), or no peptide; they were subsequently co-cultured with T2 cells loaded with one of the three peptides. DIPG PBMCs stimulated with H3.3K27M peptide exhibited antigen-specific IFNγ response to H3.3K27M, while no significant response was observed under any other conditions. These results suggest that H3.3K27M+ gliomas may have produced an endogenous CD8+ T cell response in HLA-A*02:01+ patients, but the response was not sufficient to prevent tumorigenesis.
With the goal of TCR-based immunotherapy in mind, Chheda et al. stimulated HLA-A*02:01+ healthy donor-derived PBMCs with H3.3K27M peptide and selected a CD8+ T cell clone that exhibited superior binding to the HLA-A*02:01-H3.3K27M tetramer and antigen-specific production of IFNγ. The TCR α and β chains from this clone were introduced into a retroviral vector, which also incorporated siRNA targeting the constant regions of the endogenous TCR α and β chains to prevent mispaired endogenous/transgenic TCR expression. In vitro experiments with Jurkat T cells revealed antigen-specific IL-2 production and CD8-dependent transgenic TCR reactivity. Similar results were obtained with human T cells. The team also observed a trend for elevated IFNγ production by CD8+ T cells in response to supraphysiological concentrations of H3.3WT, raising the possibility of off-tumor reactivity.
To evaluate the specificity and safety of H3.3K27M targeting, the team conducted alanine scanning mutagenesis to identify residues critical for TCR recognition. Searching the human proteome for exact matches or homologues to this critical residue motif did not identify any known human proteins likely to be targeted by the TCR. The affinity of the transgenic TCR was higher than most TCRs targeting tumor-associated cancer antigens and more on par with TCRs against peptides from infectious pathogens.
Transgenic TCR T cells lysed HLA-A*02:01+, but not HLA-A*02:01- H3.3K27M+ DIPG cell lines in vitro, and did not lyse H3.3WT DIPG cells, confirming that lysis is antigen-specific and HLA-A*02:01-restricted, and suggesting that normal brain tissue would be left intact. The team then injected human H3.3K27M+ glioma cells into the brains of immunocompromised NSG mice and, after allowing the tumors to establish, treated them with TCR- or mock-transfected human T cells. TCR-treated mice experienced significant reduction in tumor burden, while control-treated mice did not. Preferential accumulation of TCR-transduced T cells was found at the intracranial tumor site. Long-term survival could not be evaluated, as all mice developed graft-versus-host disease after day 31.
Immunotherapy targeting the tumor-specific H3.3K27M peptide could be applicable to many DIPG patients due to the high frequency of the H3.3K27M mutation and prevalence of HLA-A*02:01. A Phase I clinical trial is underway evaluating a H3.3K27M vaccine in children with H3.3K27M+ DIPG or high-grade glioma. Chheda et al.'s results support the development of a safe and effective adoptive T cell therapy for these patients as well.
by Anna Scherer