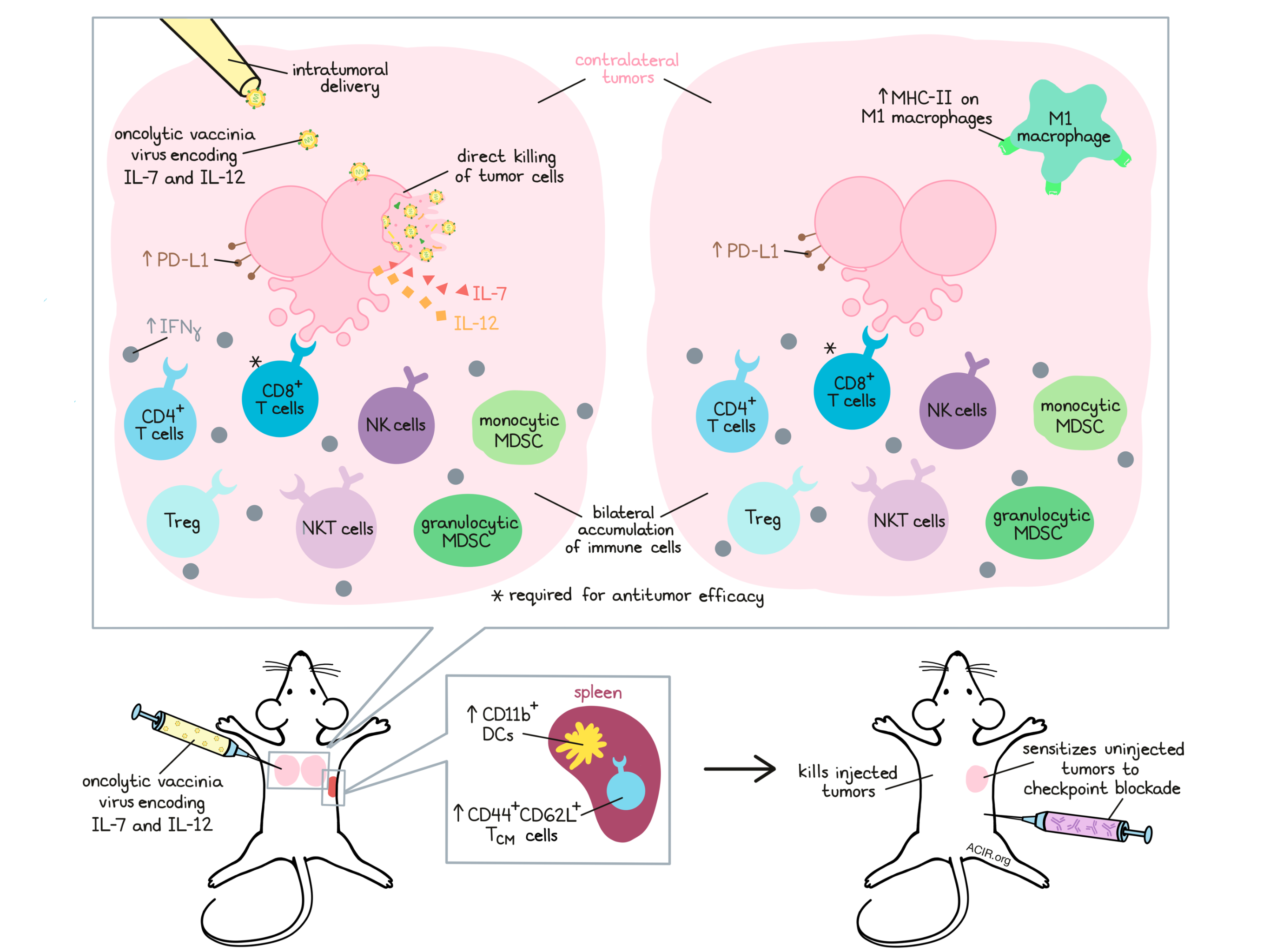 The immune status of the tumor microenvironment (TME) is known to be a key factor influencing the success or failure of cancer immunotherapy. In an effort to improve the immune status of the TME, Nakao et al. tested the intratumoral delivery of oncolytic viruses encoding IL-7 and IL-12, and saw encouraging local and systemic effects. Their results were recently published in Science Translational Medicine.
To begin their study, Nakao et al. examined the antitumor activity of an oncolytic vaccinia virus called Cont-VV that had been modified to increase cancer cell-specific replication and reduce antigenicity. In immunocompetent mice bearing B16F10 melanoma, CT26.WT colon carcinoma, or LLC lung carcinoma, intratumoral administration of Cont-VV induced some antitumor efficacy in all tested tumor models, along with infiltration by various immune cell subsets.
Having established a baseline for the antitumor effect of Cont-VV, the researchers hypothesized that encoding immune-activating IL-7 and IL-12 would enhance its antitumor efficacy. To test this hypothesis, they developed one virus encoding murine IL-12 (mIL-12-VV) and another encoding human IL-7 (hIL-7-VV), which is also functional in mice. When mice bearing LLC tumors were treated with hIL-7-VV, none showed complete responses (CRs), however, 1 out of 7 mice treated with mIL-12-VV alone showed a CR, and 4 out of 7 mice treated with both hIL-7-VV and mIL-12-VV showed CRs. In tumors treated with both viruses, the researchers identified secretion of hIL-7 and mIL-12, increased IFNγ, and increased infiltration by immune cells compared to Cont-VV or either monotherapy. Alone and in combination with hIL-7-VV, mIL-12-VV also increased MHC-II expression on M1 macrophages, compared to Cont-VV.
Given that the viruses encoding hIL-7 and mIL-12 worked best in combination, Nakao et al. developed a virus, hIL-7/mIL-12-VV, encoding both cytokines. Intratumoral delivery of hIL-7/mIL-12-VV induced CRs in mice bearing B16F10 or small CT26.WT tumors, and suppressed tumor growth in mice bearing poorly immunogenic TRAMP-C2 prostate adenocarcinoma or large CT26.WT tumors. Treatment induced activation of CD8+ T cells, which were essential to antitumor efficacy, as demonstrated by depletion experiments. RNA analysis revealed that the viral component of the treatment upregulated the innate immune pathway and the type I IFN pathway, while hIL-7 and mIL-12 production upregulated genes related to T cell function and antigen processing.
To determine whether the antitumor immune response induced by hIL-7/mIL-12-VV was systemic, Nakao et al. injected the virus into one side of mice bearing contralateral CT26.WT tumors. The injected tumors showed increased infiltration by CD8+ T cells (including tumor antigen-specific cells), CD4+ T cells, NKT cells, NK cells, and monocytic and granulocytic MDSCs; Tregs were also increased, but no change in the Treg/CD4 ratio was observed compared to Cont-VV. Importantly, identical changes in immune infiltration were observed in the contralateral tumor. MHC-II was also found to be upregulated on M1 macrophages in the contralateral tumor, and CD11b+ DCs from the spleen were found to be activated, indicating a systemic antitumor immune response. Tumors on both sides showed higher levels of IFNγ compared to tumors treated with Cont-VV, and higher levels of PD-L1 expression compared to untreated control tumors. Ultimately, injected tumors disappeared completely in 6 out of 6 treated mice, and contralateral tumors completely regressed in 3 out of 6 mice. No evidence of the virus spreading to the contralateral tumor was observed in this model, however, a small amount of viral DNA (an amount of virus known to be ineffective when directly injected) was identified in uninjected tumors when the same experiments were run in a mouse model bearing contralateral LLC tumors; otherwise, results observed in the LLC model were similar to those observed in the CT26.WT model.
Following observations that hIL-7/mIL-12-VV alters the tumor microenvironment and induces antitumor immunity, Nakao et al. hypothesized that hIL-7/mIL-12-VV treatment might make a good primer for checkpoint blockade. To this end, the researchers tested the antitumor efficacy of anti-PD-1 and anti-CTLA-4 in mice bearing contralateral CT26.WT tumors pretreated with either hIL-7/mIL-12-VV or a control. In mice pretreated with the control, anti-PD-1 and anti-CTLA-4 each showed limited antitumor efficacy and induced no CRs. Pretreatment with hIL-7/mIL-12-VV alone or in combination with either anti-PD-1 or anti-CTLA-4 induced CRs in almost all injected tumors, and the addition of either anti-PD-1 or anti-CTLA-4 significantly increased the portion of CRs in uninjected tumors, suggesting that pretreatment with hIL-7/mIL-12-VV can sensitize uninjected tumors to checkpoint blockade. Combination treatments also improved immune infiltration. No weight loss was observed in mice, suggesting a strong safety profile for the combination treatment.
To test whether treatment with hIL-7/mIL-12-VV provides long-lasting antitumor protection, the researchers collected splenocytes from mice that had been completely cleared of CT26.WT tumors. Splenocytes showed higher IFNγ production when stimulated with CT26.WT compared to other cancer types, indicating that they had retained tumor-specific memory. Further, when mice whose CT26.WT tumors had disappeared completely were rechallenged 3 months after their last treatment, they all rejected the new tumors within 4 weeks – even intracranial tumors. Protective immunity was also observed in the LLC model, and mice that rejected LLC rechallenge showed higher percentages of CD44+CD62L+ central memory T cells in their spleens.
To evaluate whether an oncolytic virus encoding IL-7 and IL-12 might be useful in humans, the researchers generated a new virus encoding human IL-7 and human IL-12. In vitro, culture supernatant of A549 lung adenocarcinoma cells infected with hIL-7/hIL-12-VV induced PBMC proliferation and secretion of IFNγ. As Cont-VV did not induce the same effect, this was likely dependent on IL-7 and IL-12 secretion. The virus was cytotoxic to multiple human cancer lines in vitro, and demonstrated direct cytolytic effects in immunocompromised mice bearing human tumors. Using mouse models reconstituted with a human immune system, the researchers showed that compared to Cont-VV, hIL-7/hIL-12-VV induced secretion of hIL-7 and hIL-12, intratumoral infiltration by various immune cell subsets, and slightly improved tumor regression of a subcutaneous human lung tumor cell line.
Overall, Nakao et al. showed that intratumoral delivery of an oncolytic virus encoding IL-7 and IL-12 induces secretion of the cytokines and mediates potent antitumor immunity that is systemic and durable. The addition of checkpoint blockade builds on the improved tumor immune status and further enhances antitumor efficacy.
by Lauren Hitchings
This week, first author Shinsuke Nakao answered our questions.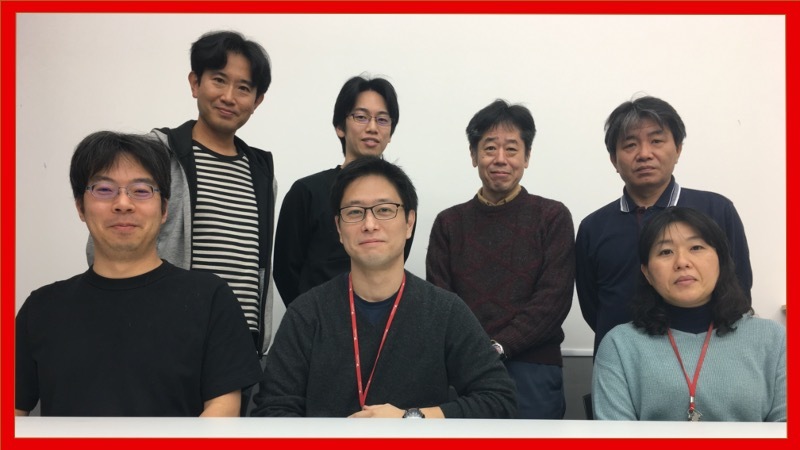 What prompted you to tackle this research question?
While immune checkpoint inhibitors have remarkably improved therapeutic outcomes, the benefit is still limited to a subset of patients and the toxicities related to unwanted systemic immune activation should be of concern. Therefore, aiming for better clinical responses with minimal toxicity, we focused on an approach using a tumor-selective oncolytic vaccinia virus, invented by Dr. Takafumi Nakamura at Tottori University, as an agent for in situ vaccination. In a collaborative study between Astellas Pharma and Tottori University, we engineered and evaluated an oncolytic virus carrying IL-7 and IL-12.
What was the most surprising finding of this study for you?
The most surprising finding was that addition of IL-7 to IL-12 expression in tumors provides a benefit. Actually, the combination of IL-7-vaccinia virus (VV) and IL-12-VV, compared to either alone, led to higher rates of complete tumor regression in poorly immunogenic tumors. It was also surprising that local treatment with our oncolytic virus carrying both IL-7 and IL-12 sensitized systemic tumors to immune checkpoint blockade without obvious toxicity.
What was the coolest thing you've learned (about) recently outside of work?
Star Wars "The Rise of Skywalker" reminds me of our recombinant oncolytic virus fighting cancers; tiny, but well-talented heroes, struggling to heighten their potential, improving the local environment, increasing momentum, and finally defeating great evil. I have learned the importance of strong attachment to the goal and have re-acknowledged our mission to provide value to patients all over the world, believing the Force be with us.