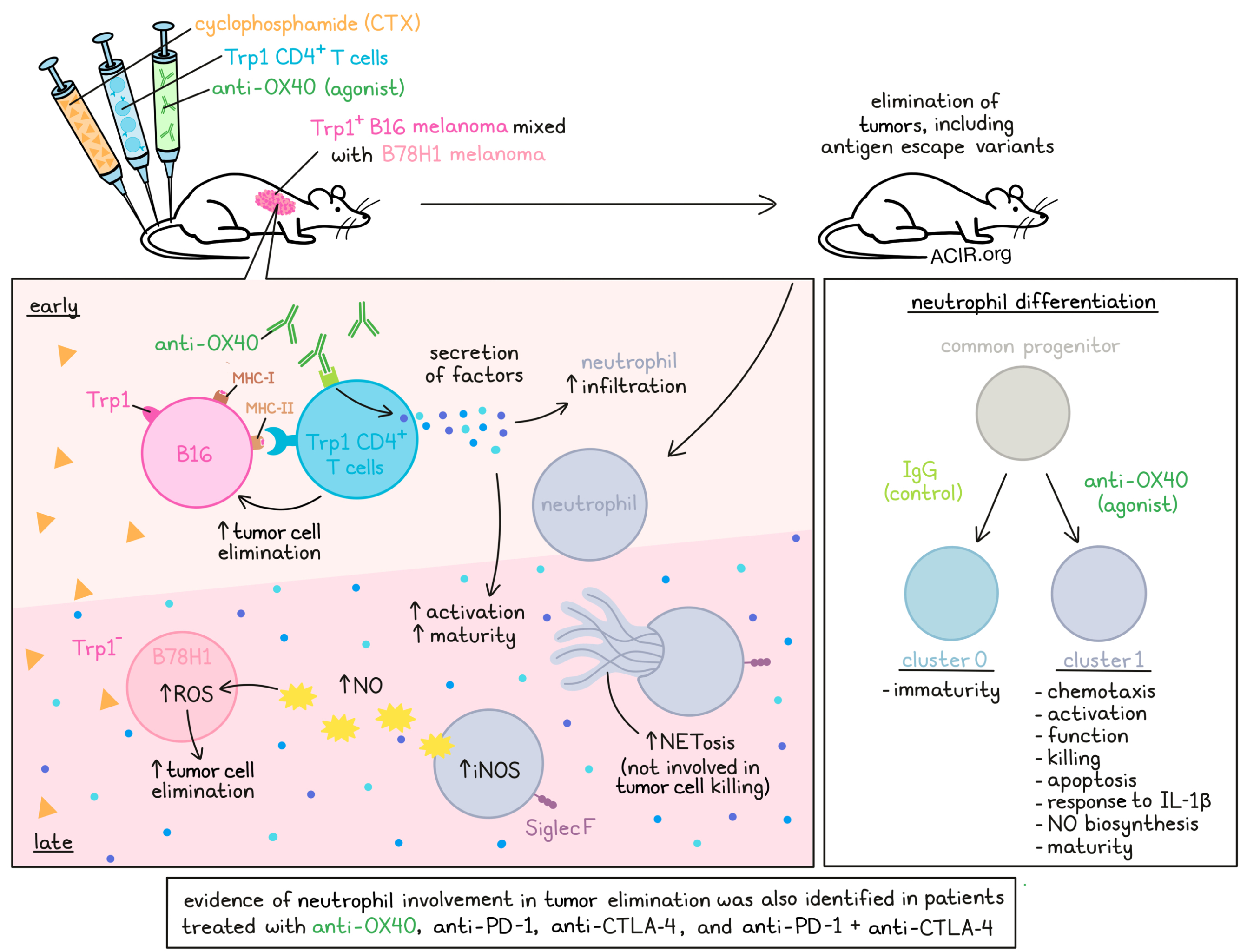 In a previous study, the combination of cyclophosphamide (CTX), CD4+ T cells specific for the melanoma antigen Trp1 (Trp1 T cells), and an anti-OX40 agonist antibody cleared advanced mouse melanoma tumors, including tumor cells that did not express the Trp1 target antigen. Investigating this interesting phenomenon, Hirschhorn et al. found that while T cells were responsible for early antigen-specific killing of tumor cells, complete tumor eradication was dependent on the infiltration and activation of a distinct subset of neutrophils; their results were recently published in Cell.
To begin, Hirschhorn et al. analyzed publicly available patient data, where melanomas were heterogeneous and expressed different combinations and levels of differentiation antigens, including TYRP1, both within and between patients. To study tumor heterogeneity in mice, the researchers utilized two tumor cell lines: B16 melanomas expressing Trp1 (a homolog for human TYRP1), and B78H1 melanomas, which do not express Trp1, nor MHC-I or MHC-II. Triple combination therapy with CTX, Trp1 T cells, and agonist anti-OX40 effectively cleared B16 tumors from mice bearing B16 tumors only, or bearing B16 and B78H1 melanomas on opposite flanks. B78H1 tumors, on the other hand, were not cleared in either setting. However, large heterogeneous tumors consisting of mixed B16 and B78H1 cells were fully eliminated by combination therapy. Replacing the anti-OX40 with anti-CTLA-4 showed similar effects, but was less effective at clearing tumors.
Next, the researchers used bioluminescent imaging to track Trp1 T cells in B16 tumors, and found that peak infiltration did not correlate with maximal tumor regression. Interestingly, while Trp1 T cells were found to be required at early time points (day 3), antitumor effects were maintained when Trp1 T cells were depleted at later time point (day 13), implicating other immune cells in tumor elimination. In RAG-/- mice, which lack adaptive immune cells, similar results were observed, suggesting that the immune cells involved in tumor elimination are a part of the innate immune system.
Quantification of cytokines from tumor extracts showed a strong innate immune signature in treated mice, and further investigation revealed the presence of neutrophils, which were undergoing NETosis – an indicator of maturity and activation. In vitro exposure of naive neutrophils to tumor extracts from mice that had received triple combination treatment induced NETosis and enhanced the neutrophils' capacity to kill target B78H1 cells. Trp1 cells co-cultured with B16 cells were also capable of educating neutrophils in a similar manner, suggesting that Trp1 T cells secrete factors that promote neutrophil reprogramming.
Investigating the role of neutrophils in vivo using antibody-mediated cell depletion and WT or RAG-/- mice, the researchers showed that neutrophils were required for the efficacy of triple combination treatment in clearing heterogeneous tumors, while other innate immune cells, including monocytes, macrophages, and NK cells, were not. Further, while untreated tumors contained mostly monocytes, macrophages, and DCs, treated tumors contained mostly neutrophils, and exhibited a distinct transcriptional signature.
Parsing out the role of anti-OX40 by replacing it with IgG control in the triple combination therapy, the researchers found in a clustering analysis that about half of cells in the IgG-treated mice were enriched in cluster 0, which showed evidence of an immature phenotype. Meanwhile, the same proportion of cells in the anti-OX40-treated mice were enriched in cluster 1, which showed evidence of activation, chemotaxis, neutrophil function, neutrophil killing, apoptosis, response to IL-1β, NETosis, nitric oxide (NO) biosynthesis, and maturity. Differentiation trajectory analysis showed that clusters 0 and 1 were likely divergent trajectories derived from a common progenitor, with OX40 agonism driving divergent differentiation. When patient data from TCGA was stratified based on signatures of clusters 0 or 1, those with the cluster 1 signature showed favorable survival outcomes.
Further evaluating the effects of OX40 agonism on neutrophils in tumors, the researchers found that exposure to triple combination including anti-OX40 induced higher expression of activation makers, downregulation of CD62L and CD206 (also indicative of increased activation), and reduced expression of PD-L1 compared to triple combination with the control IgG. Additionally, fewer CXCR2+CXCR4- cells were present, indicative of a more mature neutrophil population, and mature (SiglecF+) neutrophils showed higher expression of inducible nitric oxide synthase (iNOS), which could indicate enhanced cytolytic potential via production of reactive oxygen species (ROS).
To investigate the cytolytic activity of neutrophils in tumors following triple combination therapy, Hirschhorn et al. implanted heterogeneous tumors into iNOS-deficient mice. In this setting, triple combination therapy was substantially less effective, and survival was reduced. Ex vivo, neutrophils from this model were less effective at lysing tumor cells, indicating that iNOS and the production of ROS contributes to the antitumor effects of neutrophils. Interestingly, in mice that were deficient in enzymes required for NETosis, the ability of neutrophils to kill tumor cells was unaffected, indicating that while NETosis was an indicator of neutrophil activation, it did not play a direct role in the killing of escape variants.
Analyzing NET formation in patient data, the researchers found that after treatment with neoadjuvant anti-OX40 agonist, tumors from 12 out of 14 evaluated patients showed increased NET formation, with 6 patients showing a more than 2-fold increase. In a mice bearing MC38 colon carcinoma tumors, which respond to agonist anti-OX40, treatment efficacy was reduced when neutrophils were depleted with anti-Ly6G, suggesting that neutrophils play a role in anti-OX40 monotherapy, even in the absence of adoptively transferred antigen-specific T cell therapy. Similar results were observed in data from patients with melanoma following treatment with anti-CTLA-4 and/or anti-PD-1, and again, the depletion of neutrophils in MC38-bearing mice reduced the efficacy of combined checkpoint blockade. When the researchers applied the neutrophil gene signature to a cohort of patients with melanoma who had been treated with anti-CTLA-4 and/or anti-PD-1, they found that the cluster 1 gene signature derived from combination treatment including anti-OX40 was associated with improved outcomes to anti-CTLA-4, while the cluster 0 gene signature showed no difference in expression between groups.
Together, these results show that while antigen-specific T cells play a critical role in early antitumor immune responses, they also secrete factors that recruit and reprogram neutrophils, which help to eliminate antigen escape variants in an iNOS-dependent manner. These effects were shown to be enhanced with OX40 agonism, but also played a role in several other T cell-targeted immunotherapies, including checkpoint blockade, warranting further investigation into the roles of neutrophils and the potential for targeting or utilizing them in immunotherapies.
Write up and image by Lauren Hitchings