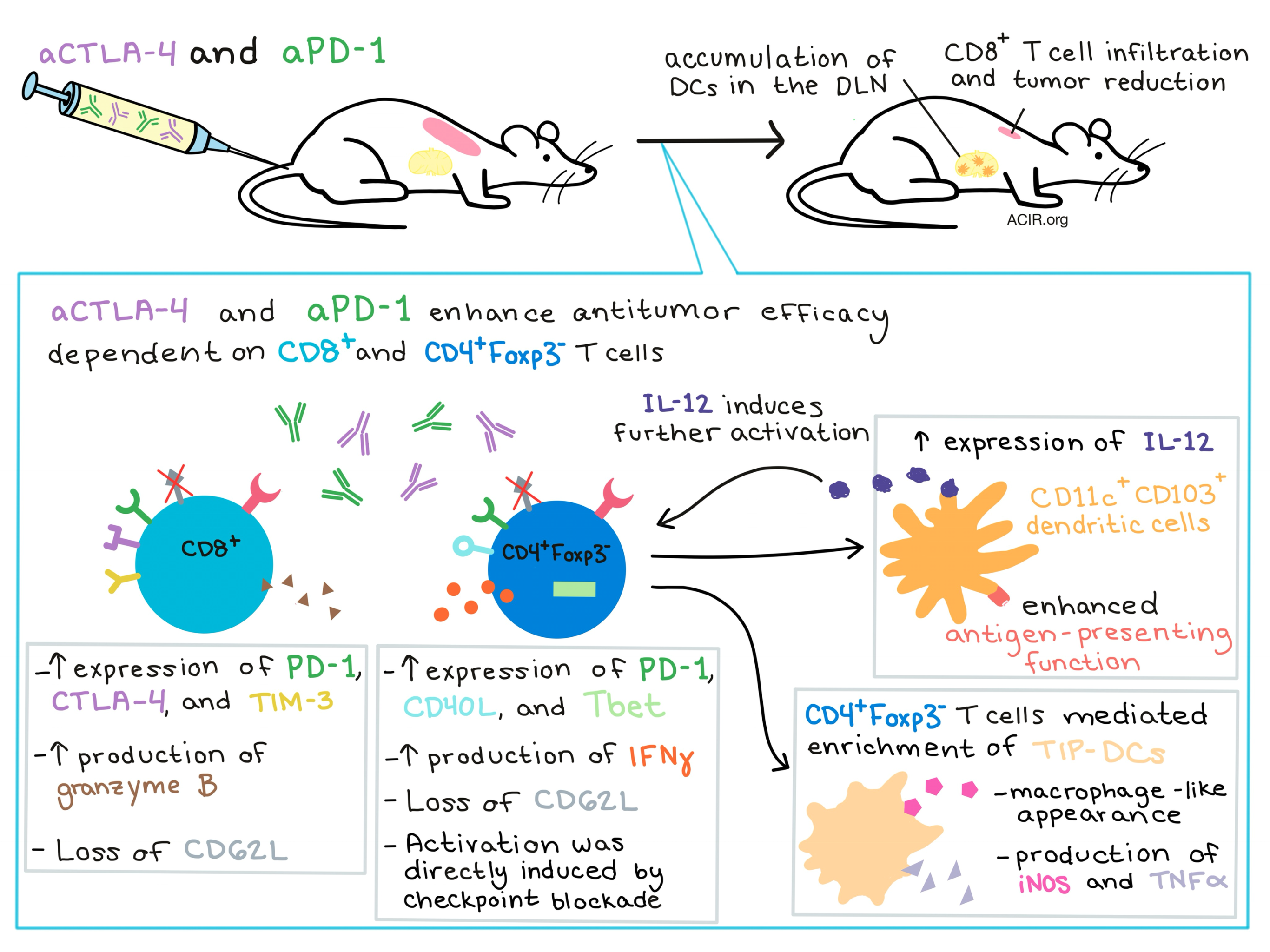 Dual checkpoint blockade targeting PD-1 and CTLA-4 is one of the most effective immunotherapeutic strategies in the clinic, but while the mechanisms of action of each monotherapy have been studied in detail, the mechanism behind the synergy of this dynamic duo is not fully understood. In a recent study, published in Cancer Immunology Research, Beavis et al. dug deeper into which immune cell subsets might make the effect of dual checkpoint blockade greater than the sum of its parts.

Beavis et al. began by using two murine tumor models expressing low levels of the foreign antigen OVA to confirm that combination treatment with both anti-PD-1 mAb and anti-CTLA-4 mAb significantly reduced the growth of established tumors and enhanced survival in mice compared to either monotherapy. To determine which T cell subsets were involved in the antitumor effect, the team performed a series of cellular depletion studies. Interestingly, depletion of CD8+ T cells had no effect on tumor growth in the absence of therapy, but reduced the efficacy of dual checkpoint blockade. Meanwhile, depletion of CD4+ T cells decreased tumor growth in the absence of therapy – likely due to the depletion of Foxp3+ Tregs – and dual checkpoint therapy did not further improve this effect, suggesting that CD4+ T cells play a necessary role in the response to dual checkpoint blockade.
In order to distinguish between the effect of CD4+ helper T cells (CD4+Foxp3- T cells) and Tregs (CD4+Foxp3+ T cells), the researchers utilized DEREG mice, in which Tregs can be specifically depleted with administration of diphtheria toxin. Treg depletion alone reduced tumor growth, but the effects of dual checkpoint blockade were still observable, while depleting the remaining CD4+Foxp3- T cells then attenuated the effect of the dual checkpoint blockade, suggesting that CD4+Foxp3- T cells play an essential role in dual checkpoint efficacy.
Next, Beavis et al. isolated CD8+ T cells and CD4+Foxp3- T cells from the tumors and draining lymph nodes (DLNs) of treated mice and analyzed their phenotypes. Compared to no treatment or checkpoint monotherapy, dual checkpoint blockade was found to increase the portion of CD8+ T cells expressing PD-1, CTLA-4, TIM-3, and granzyme B. In CD4+Foxp3- cells, it increased expression of PD-1, CD40L, Tbet, and IFNγ, indicating an enhanced state of activation. In both CD8+ and CD4+Foxp3- T cell subsets, the presence of IFNγ was found to be critical for activation, and combination therapy induced the loss of expression of CD62L, indicating a transition to an effector cell phenotype. Another series of immune subset depletion studies in mice, as well as ex vivo cytokine analysis, revealed that combination therapy directly activated CD4+Foxp3- T cells, as activation (measured by increased Tbet and IFNγ production and loss of CD62L) was independent from the presence of CD8+ T cells and Tregs.
Beavis et al. next explored the myeloid compartment to better understand the role of antigen-presenting cells (APCs) in dual checkpoint blockade. Interestingly, in treated tumors, CD4+Foxp3- T cells (independent of CD8+ or CD4+FoxP3+ T cells) mediated enrichment of a "TIP-DC" subset, which was primarily defined by production of TNFα and iNOS and macrophage-like appearance and qualities. Whether these TIP-DCs contribute to the observed antitumor efficacy was not determined. The team also observed that IL-12 production, a marker of myeloid cell activation, was predominantly associated with CD11c+CD103+ dendritic cells (DCs), and was upregulated by this subset in mice treated with dual checkpoint blockade. Treatment also led to an accumulation of CD103+ DCs in DLNs, concurrent with a reduction in tumor volume, possibly representing DC trafficking from the tumor to the DLN following antigen uptake. CD103+ DCs in treated mice also showed evidence of enhanced antigen-presenting function, dependent on CD4+Foxp3- T cells.
Interestingly, the increased production of IL-12 by activated CD103+ DCs was found to be essential for the upregulation of Tbet and IFNγ production by CD4+Foxp3- T cells and for the overall antitumor efficacy of dual checkpoint blockade. Together, this suggests an interplay in which CD4+Foxp3- T cells are directly activated by dual checkpoint blockade, triggering the activation of CD103+ DCs and upregulation of IL-12, which in turn induces further activation of CD4+Foxp3- T cells and CD8+ T cells, potentially contributing to memory cell formation. This cycle of activation allows CD4+Foxp3- T cells to exert their antitumor efficacy to the fullest extent, accounting, at least in part, for the enhanced antitumor effect observed in dual checkpoint blockade.
by Lauren Hitchings