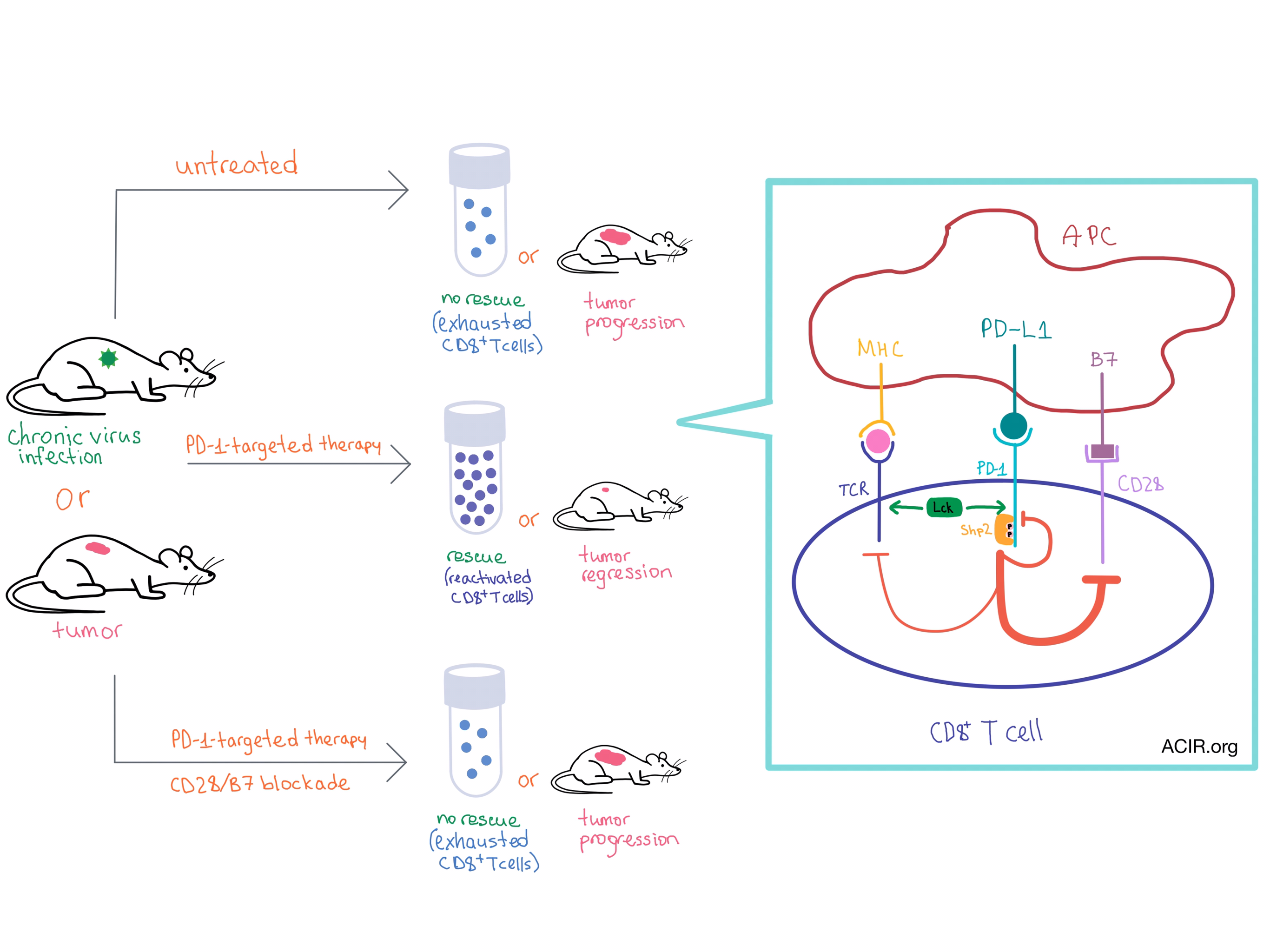 Although the PD-1-targeted therapies have provided clinical benefit in a variety cancers, the mechanism behind PD-1-mediated inhibition of T cells, and their subsequent rescue with PD-1-targeted therapy, is not well understood. In two separate studies, Kamphorst et al. and Hui et al. demonstrate that the CD28 costimulatory pathway plays a surprisingly important role in the PD-1 effect on T cell function and the rescue of exhausted CD8+ T cells during PD-1-targeted therapy.
Using the chronic lymphocytic choriomeningitis virus (LCMV) infection mouse model, Kamphorst et al. utilized several methods to block the CD28/B7 costimulatory pathway along with blockade of the PD-1/PD-L1 axis. When the CD28/B7 pathway was blocked, virus-specific CD8+ T cells failed to expand or restore effector function, which was in contrast to the successful rescue observed with PD-1 blockade alone. CD8+ T cells that were either intrinsically CD28-deficient or that lost CD28 during exhaustion could not be rescued with PD-1 blockade.
The same team then examined the role of the CD28/B7 pathway in the CD8+ T cell anti-tumor response in mice with colon carcinoma that had been administered anti-PD-L1 therapy. They observed tumor regression with anti-PD-L1, but tumor progression with additional blockade of the CD28/B7 axis, thus confirming the importance of CD28 costimulation in anti-tumor response.
Samples from advanced non-small cell lung cancer (NSCLC) patients undergoing anti-PD-1 treatment indicated that the PD-1+CD8+ T cells activated by therapy were mostly CD28+, suggesting that CD28 signaling is involved in the PD-1 blockade response in human cancer. Examination of tumor samples from early stage NSCLC patients uncovered that many human CD8+ tumor infiltrating lymphocytes do not express CD28, and therefore may not respond well to PD-1-targeted therapy.
While the preclinical studies by Kamphorst et al. discovered that CD28 costimulation plays a role in PD-1-targeted therapy, Hui et al. explained the mechanism behind CD28 involvement in the PD-1 pathway. This team of researchers biochemically explored the intracellular interactions of PD-1, and found that CD28, rather than the TCR, is the primary target of PD-1-mediated inhibition of T cell activation.
The team used a cell-free biochemical reconstitution system, which included large unilamellar vesicles that represented the T cell plasma membrane, with the cytoplasmic domain of PD-1 attached to their surface. Utilizing fluorescence resonance energy transfer (FRET), researchers discovered that the TCR-phosphorylating kinase Lck phosphorylated two tyrosines on PD-1 in vitro upon the addition of ATP. (In vivo, this process is triggered by the binding of PD-1 to PD-L1.) The phosphorylated PD-1 directly bound the tyrosine phosphatase Shp2 (but not any other SH2 domain-containing proteins that were tested), leading to inhibitory signaling.
Using a titration system that comprised many of the T cell signaling components, the team discovered that CD28 (but not the TCR or its associated components) was the most efficiently dephosphorylated substrate of the PD1-Shp2 complex. Similar results were observed in intact T cells, with the notable difference that the dephosphorylation of CD28 initiated by PD-1-PD-L1 binding was transient (much higher at 2 minutes than at 10 minutes after APC/T cell contact), likely due to a feedback loop involving the closely associated Lck kinase.
Together, the results of the two studies demonstrate that CD28 costimulation is required for effective PD-1-targeted therapy and suggest that CD28 may be useful as a biomarker to predict treatment response in cancer patients. As activation of CD28 signaling requires ligation with B7 molecules, these results strongly implicate a critical role for antigen-presenting cells (or another source of CD28 stimulation) in effective anti-PD-1 axis therapy, and highlight the importance of fully understanding the integration of positive and negative signaling events that form the basis for T cell activity.
by Anna Scherer