BRCA1 is a DNA repair gene that is commonly mutated in breast cancer patients and these tumors often exhibit a "triple negative" phenotype that limits the efficacy of several common therapies. Although cisplatin is somewhat effective as a chemotherapy against BRCA1-mutated breast cancer, the rates of drug resistance and relapse are still fairly high.
Nolan et al. explored the tumor profiles of BRCA1-mutated and BRCA1 wild type human triple-negative breast cancers (TNBCs) and found that BRCA1-mutated cancers were enriched for non-silent mutations compared to wild type and contained higher numbers of tumor-infiltrating lymphocytes (TILs). Moreover, there was a strong positive correlation between number of TILs and CD8, PD-1, and CTLA-4 expression. Researchers also noted that tumor-associated immune cells, as well as the tumor cells themselves, were expressing the immunosuppressive ligand PD-L1. While the mechanism was not proven, the researchers hypothesized that a high neoantigen load had recruited a strong T cell response, but that the immunosuppressive environment in the tumor prevented anti-tumor activity.
The researchers then turned to a representative mouse model for BRCA1-mutated TNBC to directly study the effect of various combinations of PD-1 and CTLA-4 checkpoint blockade with the commonly employed breast cancer chemotherapy cisplatin and found that the combination of chemotherapy and dual immunological checkpoint blockade most dramatically improved anti-tumor efficacy: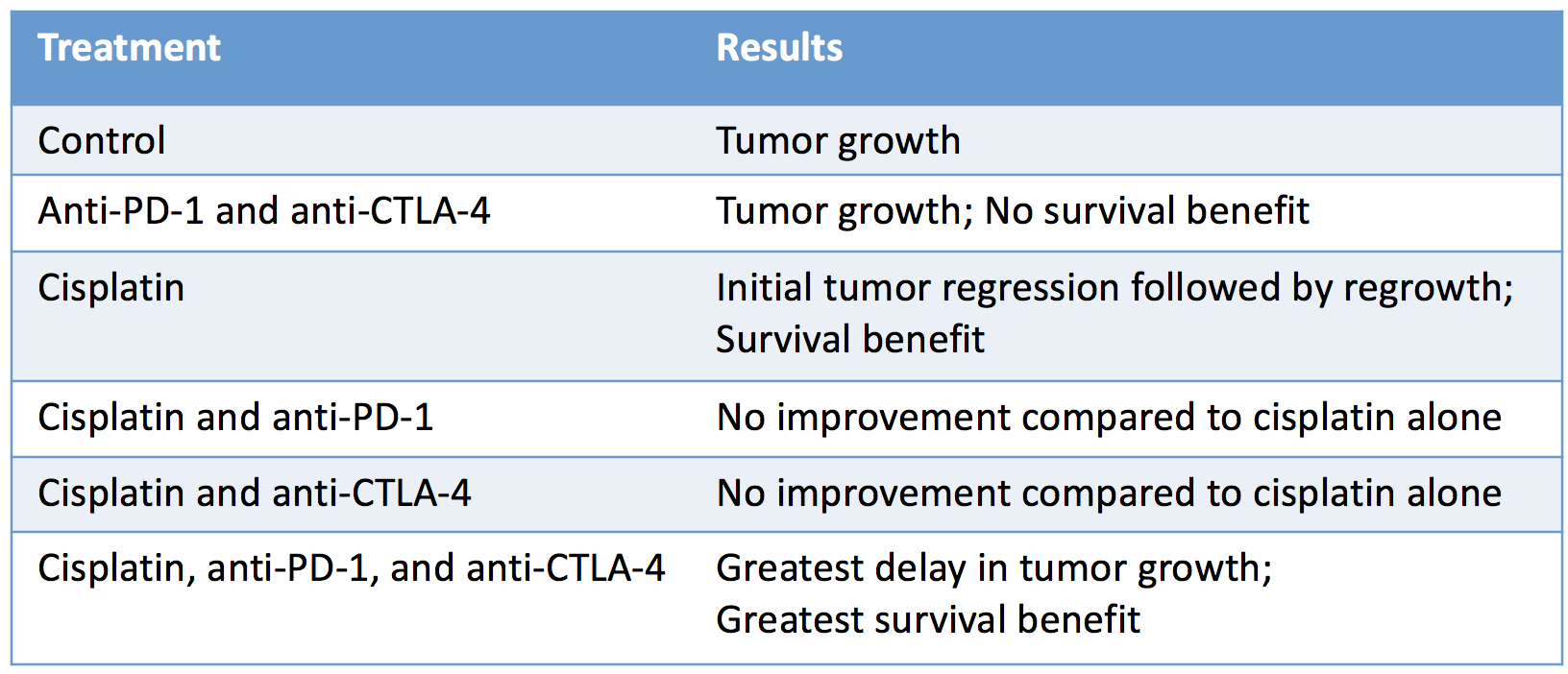 The absence of an antitumor response with checkpoint blockade alone suggested that chemotherapy was necessary to stimulate an immune response by killing tumor cells, thereby releasing tumor antigens that prime de novo T cell responses.

To dive deeper into the underlying mechanism of the antitumor efficacy, Nolan et al. performed a series of short-term in vivo experiments in which the TIL populations from mice treated with cisplatin and immunotherapy combinations were analyzed. Results showed that any combination of cisplatin with immunotherapy increased numbers of activated tumor-infiltrating CD8+ cytotoxic T cells, correlated with an increased proportion of PD-1+ TILs in the CD8+ and CD4+ subsets, and decreased proportion of T regulatory cells - results that were most pronounced when both PD-1 and CTLA-4 pathways were blocked.
Notably, the researchers also observed that dual checkpoint blockade in combination with cisplatin resulted in increases in activated intratumoral dendritic cells expressing MHC class II, CD11c, and CD80. Analysis of cytokine production by CD4+ cells revealed that dual checkpoint inhibition therapy induced a polyfunctional (IFN-γ+ and TNF+) effector T cell phenotype. An increased activation of lymphoid CD8+ and CD4+ T cells was also noted. Together, these results provide strong evidence of an enhanced immune response.
Overall, this research reveals the extensive immunological activity in BRCA1-mutated TNBC and builds the rationale for clinical evaluation of combined chemo- and immunotherapy in this TNBC subgroup.
by Lauren Hitchings