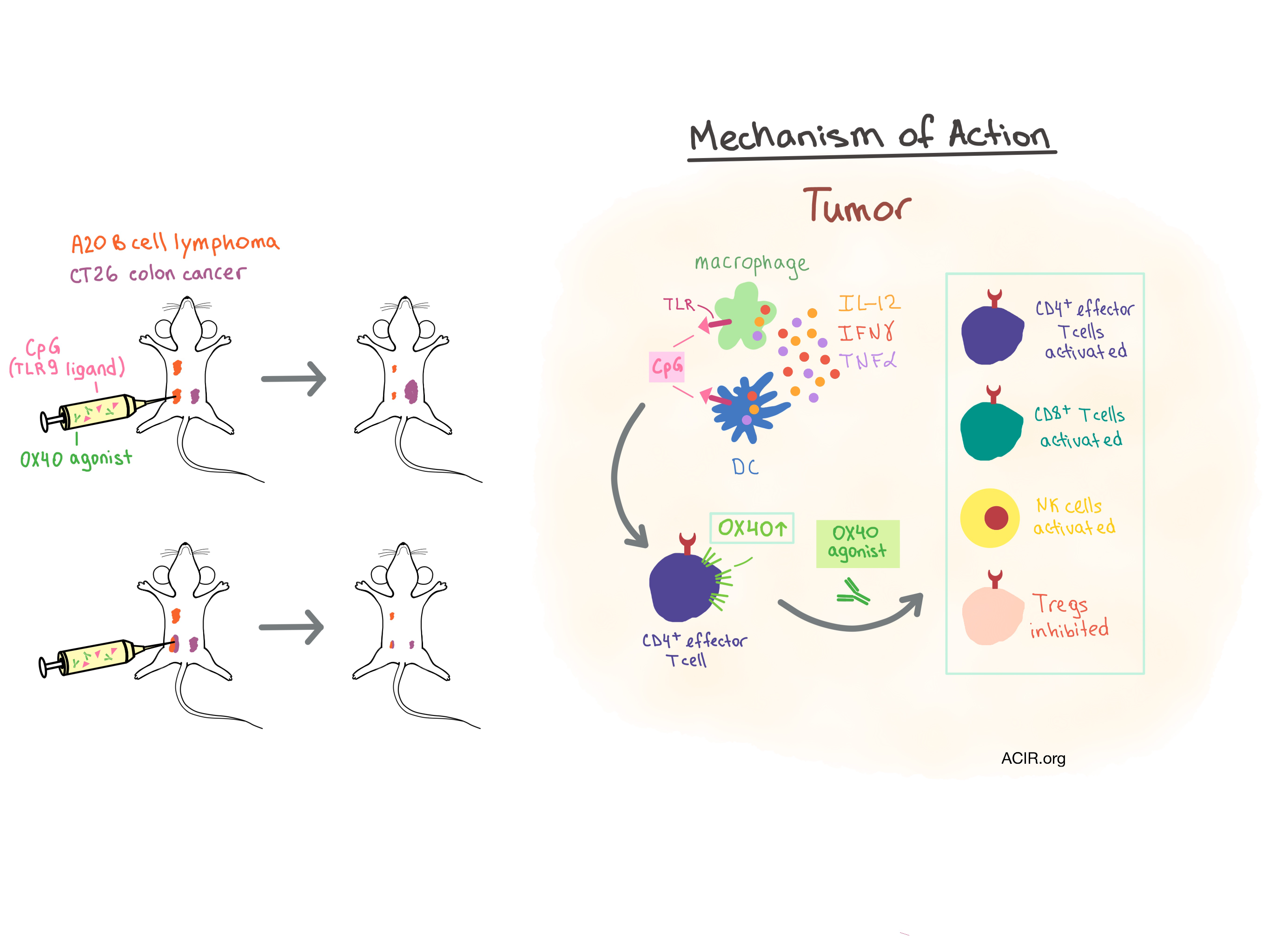 In a continuing effort to cure cancer, Sagiv-Barfi et al. sought to develop a new, "practical" immunotherapy by using the in situ tumor in three ways: 1) as a source of antigen, 2) as a source of immunoreactive cells, and 3) as an injection site for immune modulators, as described in their study published in Science Translational Medicine.

Since Toll-like receptor (TLR) agonists activate numerous cells within the innate and adaptive immune systems, the researchers injected the TLR9 ligand CpG oligodeoxynucleotide (CpG) directly into established subcutaneous A20 B cell lymphoma tumors and analyzed the intratumoral T cells for a change in inhibitory and activation markers. While CTLA-4 and PD-1 expression remained unchanged, OX40 (a costimulatory molecule expressed on effector T cells and Tregs) was upregulated on CD4+ effector T cells, which far outnumbered the Tregs. Similar results were observed in a patient with follicular lymphoma after intratumoral injection of CpG, and in tumor cells from additional lymphoma patients that were incubated with CpG in vitro. Notably, this effect was observed only locally in the injected tumor, and not in a contralateral, untreated tumor site.
Based on the results of CpG treatment, the researchers hypothesized that the addition of an OX40 agonist would enhance the effects of CpG and induce an antitumor response. To that end, they injected CpG and/or the OX40 agonist into one of two A20 tumor sites. While CpG by itself led to complete tumor regression at the injected site but not the untreated site, and OX40 agonist alone resulted in only a slight delay in tumor growth at both sites, the injection of both treatments into the same lesion induced complete regression of both injected and untreated tumor sites in all mice. The response was durable and curative, and was dependent on both CD4+ and CD8+ T cells. The team observed similar results in other transplanted mouse tumor models, including CT26 colon cancer, B16-F10 melanoma, and 4T1 breast carcinoma.
After demonstrating efficacy in transplanted tumors, the researchers assessed the CpG/OX40 agonist combination treatment in a mouse model of spontaneous breast cancer. MMTV-PyMT transgenic mice received an intratumoral combination injection as soon as their first tumor became established. The injected tumor and any coexisting untreated tumors regressed, and mice were protected from further tumor growth in other mammary glands. Treated mice experienced significantly lower total tumor burden, fewer lung metastases, and increased survival compared to untreated controls, demonstrating that this in situ vaccination can override the effect of a potent oncogene-driven cancer.
When mice were implanted with tumors at three different locations – two with the same tumor and one with an unrelated tumor, in situ vaccination into one of the two related tumors led to regression of both treated and untreated related tumors but had no effect on the growth of the unrelated tumor. When a mixture of two different tumors was implanted into one site, while two additional sites contained one tumor type each, injection of the mixed tumor site reduced tumor growth at both distant sites, demonstrating that in situ vaccination can induce a response against different tumor antigens simultaneously. Mice previously cured by in situ vaccination were immune to a rechallenge by the same tumor but not to a different tumor. Overall, these results demonstrated that the immune response was durable and tumor-specific, and that the vaccination works by triggering a local response within the injected tumor microenvironment (TME), leading to systemic immunity, rather than by diffusion of the immune modulators to distant sites.
To understand which immune cells and signaling molecules were involved in this effect, Sagiv-Barfi et al. purified tumor-infiltrating T cells and found no OX40 upregulation upon exposure to CpG in vitro. Then, they depleted macrophages and dendritic cells from whole tumor cell populations and found that, once again, the T cells in this environment did not upregulate OX40. As T cells did upregulate OX40 when the whole tumor suspension was exposed to CpG, they concluded that the myeloid-derived cells are responsible for communicating the CpG signal to the T cells, and confirmed that IL-12, IFNγ, and TNFα were involved in the required cellular communication. Digging deeper, the researchers found that the function of the OX40 agonist was dependent on competent interaction with Fc receptors (implying ADCC activity or Fc-dependent agonist activity), which led to an increase in myeloid cell infiltration, activation of NK and CD8+ T cells, and inhibition, but not depletion of Tregs in the TME.
Sagiv-Barfi et al. demonstrated that OX40 agonist synergizes with CpG to induce a systemic, tumor-specific immune response without prior knowledge of unique tumor antigens when administered intratumorally as an in situ vaccination. Although the potential clinical use of such a combination may be limited by the necessity for adequate immune infiltrates in the tumor, as well as availability of an injectable tumor site, the results of this study provide strong rationale for clinical testing of the CpG/OX40 agonist combination.
by Anna Scherer