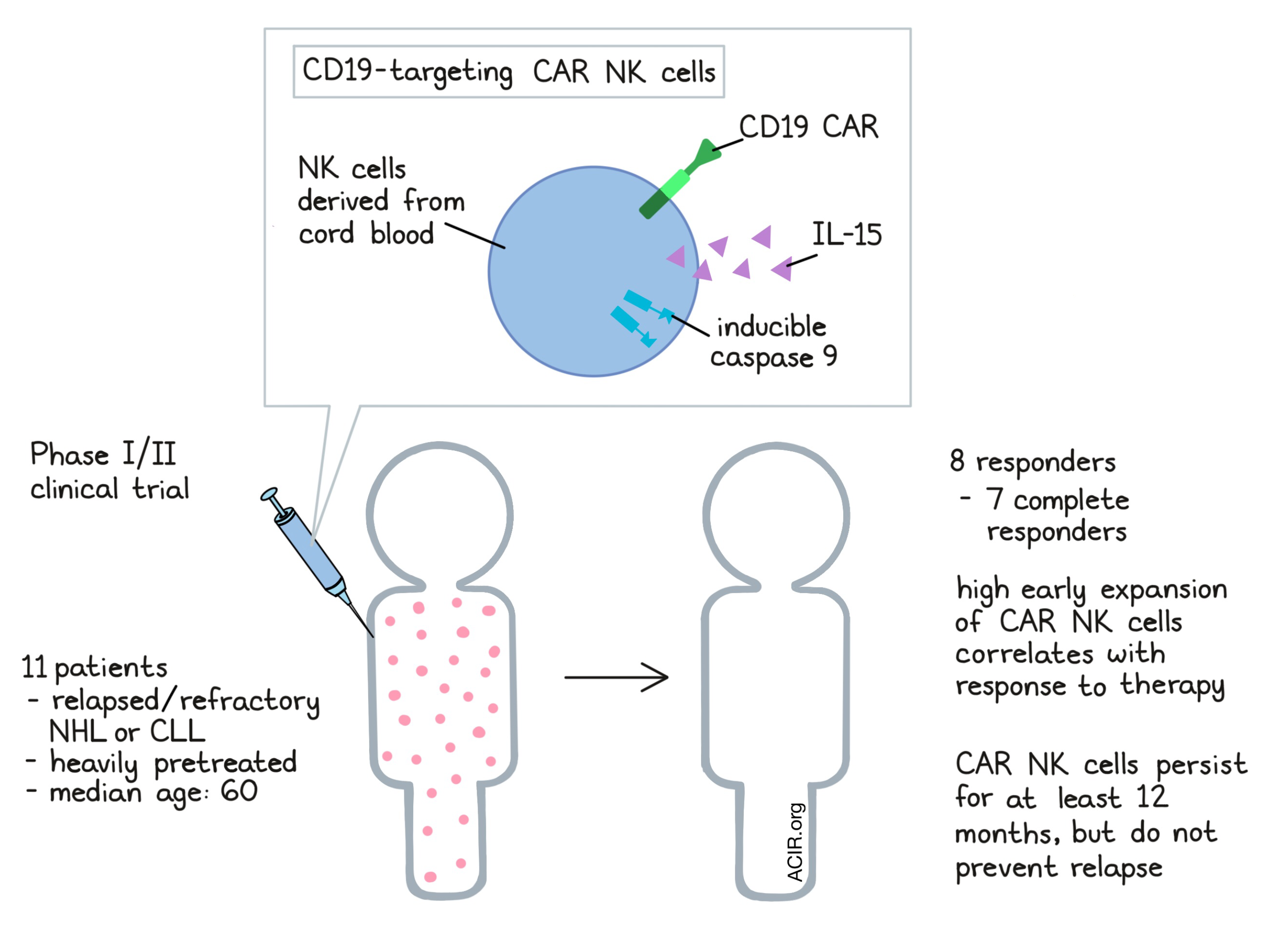 The powerful effects of CD19-targeting CAR T cells against blood cancers have been well documented in a high portion of treated patients. However, CAR T cells can induce significant toxicities, and the fact that this treatment must be personalized makes the manufacturing process slow, challenging, and expensive. In early results from a phase I/II clinical trial, recently published in The New England Journal of Medicine, Liu, Marin, and Banerjee et al. showed that allogeneic CD19-targeting CAR NK cells were safe and effective against CD19+ blood cancers, and that CAR NK cells could overcome some of the challenges associated with CAR T cell therapy.
Based on promising preclinical data, Liu, Marin, and Banerjee et al. designed and engineered CAR NK cells for patients. NK cells derived from human cord blood were transduced with retroviral vectors encoding genes for anti-CD19 CARs (with a CD28-CD3ζ signaling domain), IL-15, and inducible caspase 9. IL-15 was included to enhance the expansion and persistence of CAR NK cell, and inducible caspase 9 was included as a kill switch in the event of unmanageable toxicity. For patient delivery, cells were expanded ex vivo and incorporated into an infusion product without subsequent cryopreservation.
For their phase I/II clinical trial, the researchers recruited patients with heavily pre-treated relapsed or refractory CD19+ non-Hodgkin lymphoma (NHL) or chronic lymphocytic leukemia (CLL). While the trial is ongoing, the early published results include data for the first 11 treated patients. Among these patients, the median age was 60.
As a safety measure, enrollment for this clinical trial was staggered, and fresh batches of NK cells were made for each patient. After lymphodepleting pre-treatment, patients were administered a single dose of engineered CAR NK cells, with doses escalating over the progression of the study. The first nine patients received CAR NK cell infusion products that were partially HLA-matched (at 4 of 6 loci), while the last two received products with no consideration for HLA matching (matched at 1 or 2 loci).
In all 11 patients, CAR NK cells were well tolerated, with no evidence of cytokine release syndrome, neurotoxicity, hemophagocytic lymphohistiocytosis (overproduction of activated immune cells), or tumor lysis syndrome. Serum cytokine analysis of peripheral blood samples revealed no systemic increases in IL-6, TNFα, or IFNγ, and no increase in IL-15. No antibodies to the mismatched HLAs were detected and no evidence of graft-versus-host disease was observed, even in patients receiving HLA-mismatched NK cell products. Some T cell contamination did occur while making the CAR NK cell products, however, CAR T cell expansion was not detected. Patients did experience high-grade transient myelotoxicity, though this was more likely caused by the lymphodepleting pre-treatment, and the effect was reversible. The maximum tolerated dose of CAR NK cells was not reached, and caspase 9 safety switch did not have to be activated in any of the treated patients.
Of the 11 treated patients, 8 had an objective response, including 7 with a complete response (4 patients with NHL and 3 with CLL). The patient who responded but did not have a complete response had CLL with Richter's transformation, and experienced remission of the accelerated disease, but maintained persistent CLL. In all 8 responding patients, responses were rapid and effects were observed within 30 days. Of the 8 responding patients, 5 underwent postremission therapies, which prevented analysis of response durations for the CAR NK cell therapy.
To better understand the effects of CAR NK cells, Liu, Marin, and Banerjee et al. measured their in vivo expansion using quantitative real-time PCR assay. Expansion was seen as early as 3 days post-infusion, and peaked between 3 and 14 days post-infusion. Peak expansion was found to be dose-dependent, however, after 14 days, no significant differences in NK cell levels were observed between doses. Importantly, patients who responded to therapy had a significantly higher early expansion of NK cells compared to non-responders.
Monitoring persistence of the CAR NK cells, the researchers found that while non-engineered NK cells typically persist for about two weeks following adoptive transfer, the engineered NK cells used in this trial persisted for at least 12 months in both responders and non-responders, possibly due to the inclusion of IL-15. While CAR NK cells persisted, they were not sufficient to prevent responders from relapsing, and re-expansion of CAR NK cells was not observed upon relapse, even when the relapsing disease retained expression of CD19, suggesting an alternative mechanism of tumor escape from CAR NK cell-mediated control — possibly NK cell exhaustion. Persistence did not appear to be impacted by HLA matching — an effect which may have been supported by lymphodepleting pre-treatment preventing the induction of antibody responses to the mismatched HLAs.
Blood and bone marrow samples collected from patients showed similar levels of CAR NK cells, while lymph node samples, which were available from only 2 patients, showed a higher accumulation of CAR NK cells, suggesting that they home in on disease sites.
Overall, the manufacturing of CAR NK cells offers an advantage over the manufacturing of CAR T cells, as NK cells do not need to be personalized, and over 100 doses of CAR NK cells could be engineered from a single unit of cord blood. While cryopreserved and thawed products have not yet been tested, CAR NK cell therapy has the potential to be developed as an off-the-shelf product. The early results of this trial show evidence that CAR NK cells may be a safe and effective alternative to CAR T cells, and further clinical testing is currently underway.
by Lauren Hitchings

This week, lead author Katayoun Rezvani answered our questions.
What prompted you to tackle this research question?
My team had been investigating the potential of NK cells to target cancer for some time, and we had seen the amazing work being done with CAR T cells in treating lymphoid malignancies. It made sense to engineer NK cells with a CAR to target specific antigens on cancer cells. This started 7 years of highs and lows, ending up where we are today.
What was the most surprising finding of this study for you?
The encouraging safety data to date. In parallel studies using adoptive T cell therapies, there is always the threat of a CRS (Cytokine Release Syndrome) and neurotoxicity that can be potentially hazardous to the welfare of the patient. In NK CAR therapy, however, we've not had any signs of CRS or neurotoxicity, which is amazing for the patients.
What was the coolest thing you've learned (about) recently outside of work?
I have recently discovered the joys of yoga and meditation. I would highly recommend it!