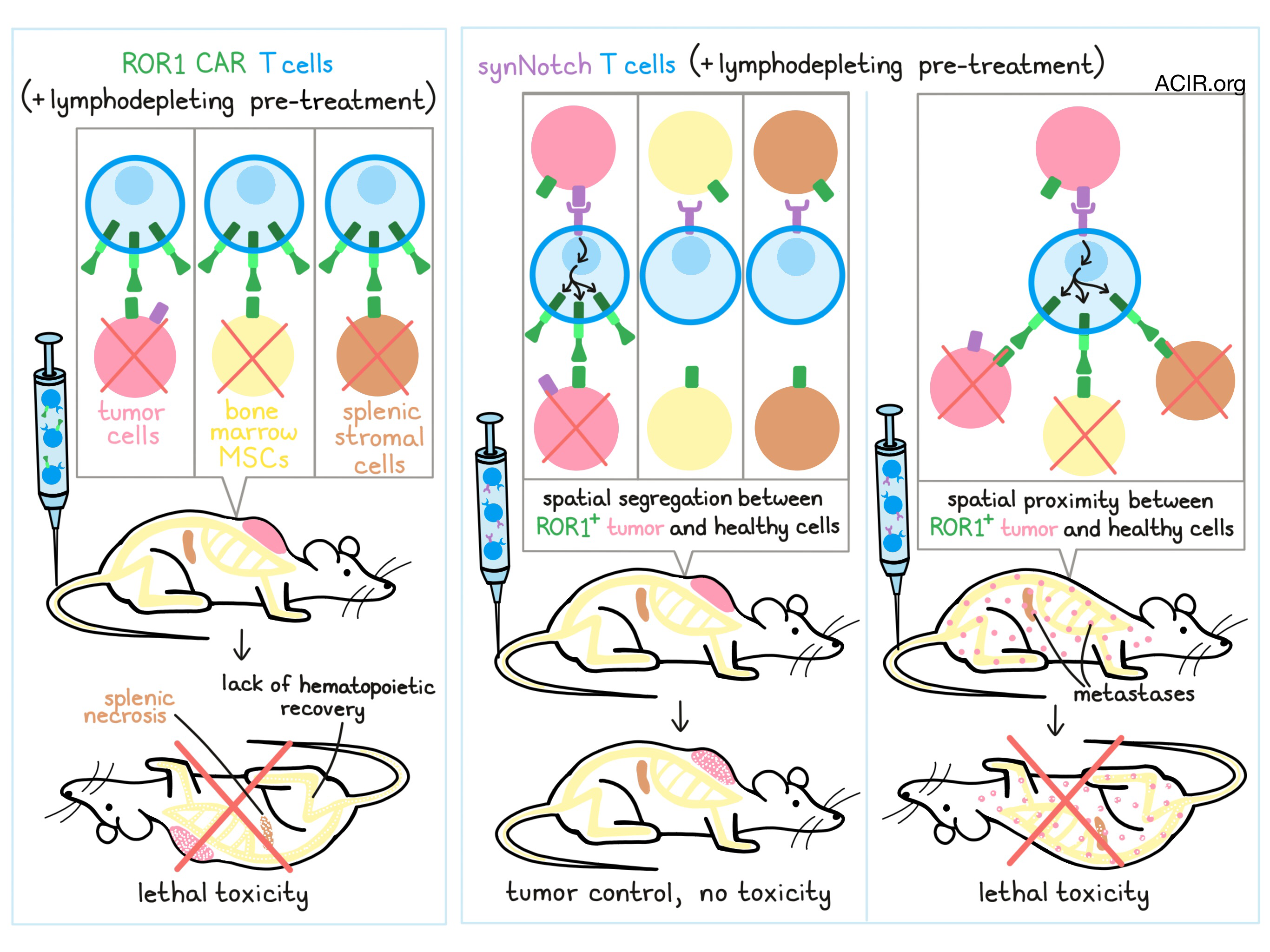 CD19-targeted CAR T cells can be incredibly effective against B cell malignancies, however, they do not discriminate between malignant and healthy cells. In the case of lineage-restricted CD19, the killing of on-target, off-tumor cells is not a major problem because patients can survive without B cells. A major challenge in treating solid tumor types, however, has been finding tumor antigens that can be targeted without leading to the unintended destruction of essential healthy cells. ROR1 is a promising tumor target in many epithelial malignancies, but its low-level expression on some normal tissues may soon present a toxicity challenge as ongoing clinical trials aimed at this target antigen progress. To get ahead of this potential problem, Srivastava et al. used a mouse model to understand the basis of potential off-tumor toxicity, which led to the design of logic-gated ROR1-targeted CAR T cell system that more selectively target tumor cells while sparing healthy tissues.
To begin, Srivastava et al. treated healthy mice with ROR1-targeted CAR T cells. CAR T cells alone did not induce toxicity, but mice that had been pre-treated with lymphodepleting radiation or chemotherapy died of CAR T cell-mediated toxicity within two weeks following weight loss, a rapid decline in red blood cell and platelet counts, necrosis in the spleen, and damage to bone marrow. Toxicity was found to be dependent on reaching a threshold of functional CAR T cells in vivo, which was dependent on both the extent of lymphodepletion and the initial cell dose.
Using various mouse models, including Rag2-/- mice, ROR1 knockouts, and bone marrow chimeras, Srivastava et al. determined that necrosis in the spleen could be attributed to CAR T cell targeting of ROR1+ stem cell factor (Scf)-producing splenic stromal cells in the context of lymphodepletion (as it occurred in both pre-conditioned wild-type mice and Rag2-/- mice), but that this effect alone did not cause mortality. Mortality only occurred when there was bone marrow failure due to CAR T cell-mediated killing of ROR1+ bone marrow stromal cells, which occurred in the context of cytotoxic pretreatment, but not in Rag2-/- mice. The researchers found that exposure to radiation induced significant upregulation of ROR1 on mesenchymal stem cells, which could explain why bone marrow damage, and the consequent lethal lack of hematopoietic recovery, was prominent only after cytotoxic pre-treatment in vivo.
Having established an understanding of the source of the lethal toxicity of ROR1-targeted CAR T cells in mice, the researchers turned their attention towards finding a solution. To this end, they engineered T cells with a EpCAM-targeted synthetic Notch receptor circuit, which, when activated, drives transcription of the ROR1 CAR. EpCAM is not expressed on ROR1+ bone marrow or spleen stromal cells, but is co-expressed on 4T1 mammary carcinoma transduced to express ROR1, meaning that these "AND" (or more aptly described as "IF/THEN") gated cells, should be activated by the presence of EpCAM on the tumor, upregulate the ROR1-CAR, and specifically target local tumor cells.
Specific targeting of dual-target-expressing tumor cells by synNotch T cells was evident in vitro. In in vivo studies, ROR1 CAR T cells controlled tumors, but also quickly accumulated in the spleen and bone marrow, inducing lethal toxicity. SynNotch T cells on the other hand, mediated tumor control without signs of tumor necrosis, and mice were able to recover weight, red blood cells, and platelets, indicating that ROR1+ stromal cells in the bone marrow remained functional. Overall, synNotch T cells mediated increased survival over untransduced control T cells or ROR1 CAR T cells, although all mice still ultimately died due to tumor outgrowth. Further, recognizing that EpCAM may not be an ideal target in a clinical setting, as it can be co-expressed with ROR1 on some normal human epithelial tissues, the researchers identified B7-H3, frequently coexpressed with ROR1 on human breast, lung, and ovarian tumors, as a possible alternative target for the synNotch receptor. B7-H3-targeted synNotch T cells exhibited in vitro and in vivo behaviors that were comparable to those of EpCAM-targeted synNotch T cells.
While the synNotch receptor system may limit the off-tumor toxicity of ROR1-targeting CARs, the potential for toxicity remains when malignant and healthy ROR1+ cells are in close proximity. To test the safety of synNotch T cells in such a context, the researchers inoculated mice with an aggressive ROR1+ lymphoma, which metastasizes to the bone marrow. Mice were then treated with CD19-directed synNotch T cells, which, upon target recognition, would trigger expression of the ROR1 CAR. In this model CD19-directed synNotch T cells and more traditional ROR1 CAR T cells exhibited similar antitumor efficacy and lethal toxicity, highlighting the need for spatial segregation of target cells for the synNotch system to alleviate the toxic effects of the ROR1 CAR.
Overall, Srivastava et al. gained a better understanding of potentially lethal toxicity of ROR1-targeted CAR T cells, and designed synNotch T cells that may limit on-target, off-tumor toxicity by more strictly defining tumor cell targets. The synNotch strategy could likely be applied across various cancers and tumor-associated antigens, though it may be most effective in solid, low-burden tumors that have not metastasized, as efficacy requires the spatial segregation of target antigen-expressing tumor and healthy cells.
by Lauren Hitchings