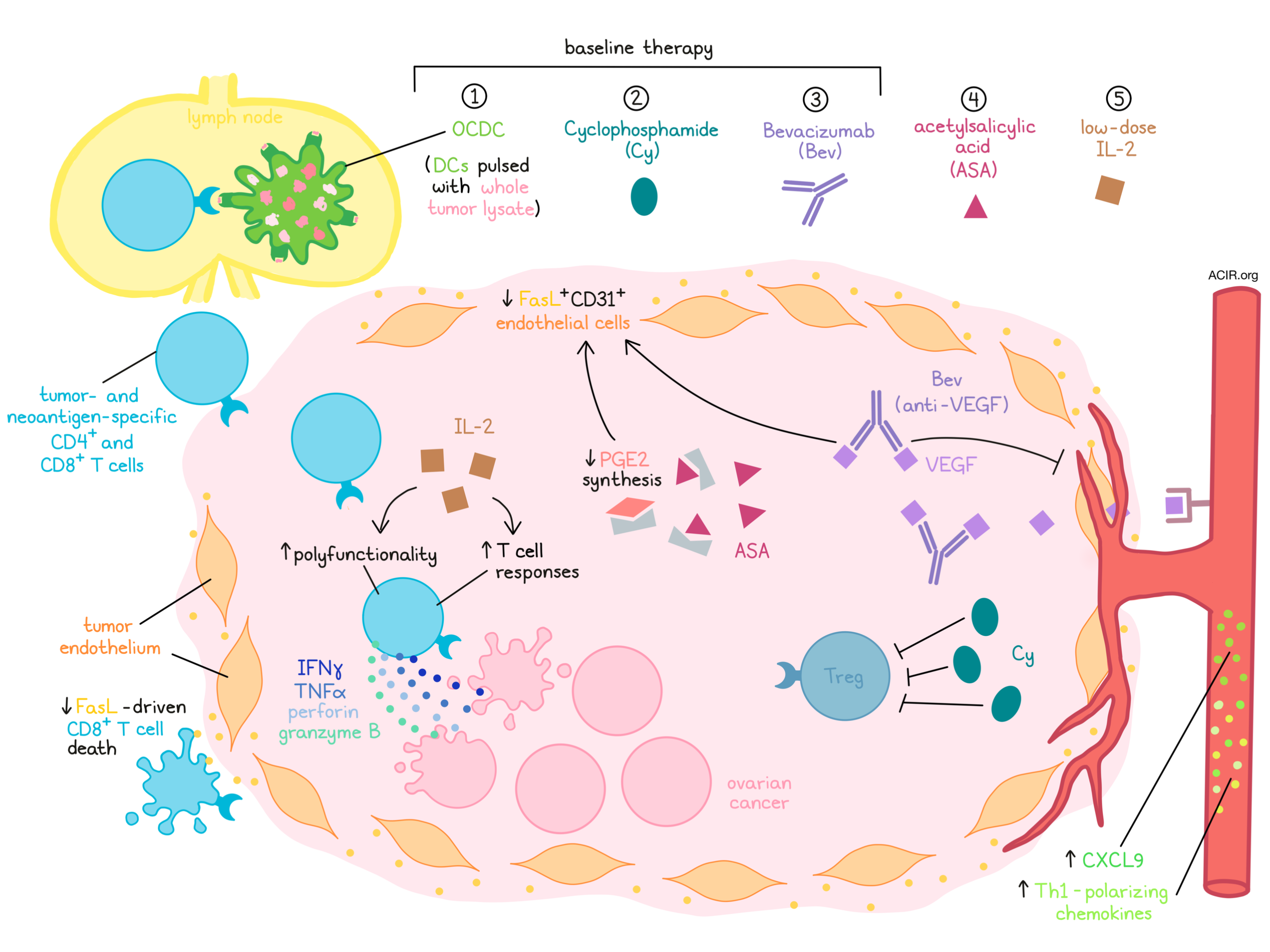 In previous arms of a sequential, multi-arm, ovarian cancer clinical trial, Tanyi and Chiang et al. showed that the use of a dendritic cell vaccine consisting of DCs pulsed with oxidized autologous whole tumor lysate (OCDC) can elicit T cell responses to tumor-associated antigens and neoantigens. They also showed that the addition of Bevacizumab (Bev), which targets VEGF and inhibits angiogenesis, and cyclophosphamide (Cy), which targets Tregs, enhanced survival in these patients. To further enhance the efficacy of this three-part regimen, or "baseline therapy", the researchers recently tested the addition of acetylsalicylic acid (ASA; also known as Aspirin), which is a widely used anti-inflammatory drug, and low-dose IL-2, which has effectively enhanced pre-existing antitumor T cell responses in other immunotherapy settings, in both a clinical trial and in a comparable mouse model. Their results were recently published in Vaccines.
To study the addition of ASA and low-dose IL-2 to the baseline regimen of OCDC, Bev, and Cy, thirty patients with recurrent advanced ovarian cancer who had previous received treatment with a platinum-based chemotherapy (many patients were heavily pre-treated), but were naive to immunotherapy were enrolled in a clinical trial and divided into three cohorts of ten. Cohort A received only the baseline therapy, while cohort B was treated with baseline therapy plus ASA, and cohort C was treated with baseline therapy plus ASA and low-dose IL-2. Cy was given intravenously, and the following day, OCDC was given intranodally, then Bev was administered intravenously. ASA was administered orally daily, and low-dose IL-2 was administered intravenously for five consecutive days following each administration of OCDC. Treatment cycles were repeated every three weeks for 4 or 5 cycles; patients whose disease was not progressing were offered a maintenance regimen. In all three cohorts, treatment was well tolerated. Several patients experienced manageable grade 3 adverse events, and no patients experienced grade 4 adverse events.
Evaluating T cell responses in patients for whom PBMCs were available, the researchers found that two patients in cohort C who had good clinical responses also had a persistent increases in vaccine-specific IFNγ-producing T cells following vaccination and at the end of the study. Two patients in cohort B with weak T cell responses showed weaker clinical effects. Across both cohorts B and C, the researchers were also able to positively correlate the maximum number of IFNγ-producing vaccine-specific T cells with longer time-to-progression and prolonged 3-year OS. Overall, cohort C demonstrated greater immunogenicity and stronger clinical benefit, with more patients from cohort C (8/10) being alive at 3 years compared to cohort B (4/10) or cohort A (4/10).
Investigating the quality of the T cell responses in treated patients, Tanyi and Chiang et al. identified polyfunctional vaccine-specific T cells in patients from cohorts B and C, and CD8+ T cells from cohort C were significantly more polyfunctional than those from cohort B. Further, samples from cohort C contained a population of cells co-expressing IFNγ, granzyme B, perforin, and TNFα that was not present in samples from cohort B. Interestingly, markers of activation and exhaustion were not markedly different between cohorts B and C.
To determine whether OCDC vaccination elicited neoantigen-specific T cell responses, the researchers evaluated samples from one patient in cohort B for whom both PBMC and tumor samples were available. Based on neoantigen prediction algorithms, they were able to identify both CD4+ and CD8+ T cell responses that were specific for neoantigens, and validate a CD4+ response to an epitope predicted by a class-II algorithm, suggesting that OCDC vaccination can elicit responses to both HLA-I- and HLA-II-restricted epitopes.
Given the limited availability of samples from patients, Tanyi and Chiang et al. mimicked these therapeutic regimens in the syngeneic ID8 ovarian cancer mouse model. Mice in group C showed reduced tumor growth, longer median survival, and significantly prolonged OS compared to mice in groups A and B. Mice in group C also had higher levels of tumor-infiltrating CD3+ and CD8+ T cells and, within infiltrating CD3+ and CD8+ T cells, a higher portion of perforin-expressing cells. Tumors from mice in group C also showed a lower percentage of Tregs within CD4+ TILs compared to in group A or control mice, and a higher CD8:Treg ratio within TILs compared to group A, B, and control mice. Overall, this suggests a favorable tumor immune microenvironment in group C.
In past studies, tumor endothelial production of FasL has acted as an immune barrier by preferentially killing CD8+ T cells. FasL production is supported in part by tumor-derived VEGF and PGE2, which can be targeted with anti-VEGF antibodies (i.e. Bev) and ASA, respectively. Investigating the effects of an anti-VEGF antibody and ASA on FasL production, the researchers observed lower numbers of FasL+CD31+ tumor endothelial cells in groups B and C compared to in group A and control mice. They also showed that decreased FasL+CD31+ cells correlated with increased CD8+ TILs.
Evaluating plasma chemokine profiles, the researchers found that mice across treated groups had increased levels of CCL5, CCL4, CCL2, and CXCL9 in their serum, but that this was most pronounced in group C mice. In particular, group C showed the highest levels of Th1-polarizing chemokines and CXCL9. Increased plasma CXCL9 was found to be correlated with increased CD3+ and CD8+ TILs, suggesting that the serum chemokine profiles in group C were favorable for T cell recruitment.
Finally, investigating neoantigen-specific T cell responses, the researchers sequenced their ID8 tumor model, identified mutations, and selected 17 neoantigens, focusing on MHC-I-restricted epitopes. Across all treated groups, they detected CD8+ T cell responses to 11 neoantigens. T cells from group C mice recognized 10 of these and had the overall highest number of IFNγ-producing neoantigen-specific T cells. Further, mice in group C had significantly increased IFNγ-producing T cells against four particular neoantigens compared to mice in groups A and B, which individually or as a group positively correlated with decreased tumor burden. The presence of CD8+ T cells responding to other tumor neoantigens did not show the same correlation.
By studying the addition of ASA and low-dose IL-2 to a regimen of OCDC, Bev, and Cy, Tanyi and Chiang et al. showed that these additions can enhance clinical outcomes, antitumor immune responses, and T cell recruitment to tumors, and reduce tumor endothelial production of FasL. While OCDC alone is insufficient as a monotherapy for advanced ovarian cancer, testing rational combinations has led to improved antitumor immune responses and encouraging therapeutic outcomes.
by Lauren Hitchings
This week, co-first authors Janos Tanyi and Cheryl Chiang, along with co-lead authors Lana Kandalaft and Alex Harari answered our questions.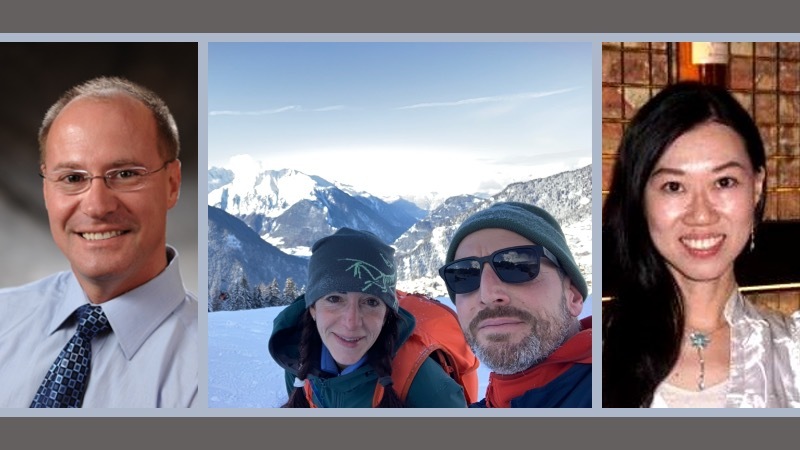 What prompted you to tackle this research question?
Despite advances made in surgery and medicine, the overall survival of patients with ovarian cancer (OC) remains very poor. This is mainly because OC lacks specific symptoms, and patients are diagnosed at a late stage, whereby the cancers have metastasized. We clearly need to develop new OC treatment regimens, as less than 40% of the OC patients with advanced cancer remain alive 5 years after diagnosis. The current standard-of-care treatments for OC patients are debulking surgery and several rounds of chemotherapy. However, more than 80% of the OC patients will recur and eventually develop resistance to the chemotherapeutic agents. We previously demonstrated that OC is immunogenic and could be recognized by the body's immune system. We developed a cancer vaccine with the OC patient's own immune cells (dendritic cells) and inactivated tumor cells (we called this vaccine OCDC) and used it successfully in a small-scale clinical study. The OCDC vaccine is safe and effectively elicits antitumor responses in the patients. To have a sustained antitumor response, we must modulate and even eliminate immunosuppressive mechanisms in the OC tumor microenvironment. Thus, we designed treatment regimens that consist of OCDC vaccine and different immunomodulatory agents approved by US Food and Drug Administration (FDA), with the goal of disrupting the immunosuppressive barriers in OC microenvironment and increasing the overall efficacy of the OCDC vaccine-primed antitumor responses.

What was the most surprising finding of this study for you?
We were pleasantly surprised that we could repurpose the use of different FDA-approved immunomodulatory agents to achieve clinical benefits in OC patients. By adding two additional agents (i.e. acetylsalicylic acid and recombinant IL-2) in the treatment regimen, we were able to elicit an even stronger antitumor T cell response in the OC patients. In biology, the additive effects of different therapeutic agents in a combinatorial regimen is not always straightforward. We believe that other immune mechanisms (besides antitumor T cells) also play important roles in suppressing OC tumor growth. We have a robust ovarian tumor mouse model (i.e. ID8) for this study; we are able to observe strong similarities in terms of treatment outcomes and antitumor T cell responses between this tumor model and the treated OC patients. Thus, the ID8 ovarian tumor model is a useful tool for evaluating future OC clinical trial design.

What was the coolest thing you've learned (about) recently outside of work?
CC: Due to the COVID-19 pandemic, we are spending more time cooking and experimenting with different recipes. Interestingly, we find many similarities between doing biological experiments and cooking, i.e., if we use the right ingredients, we could get our desired outcome. Tried and tested recipes or methods are great, however, we believe that we can achieve much more if we innovate.
LK and AH: Due to the COVID-19 pandemic, we discovered a way to breath and ski, avoiding lifts, while pitching the next experiment. We warn you, ski touring became extremely addictive...