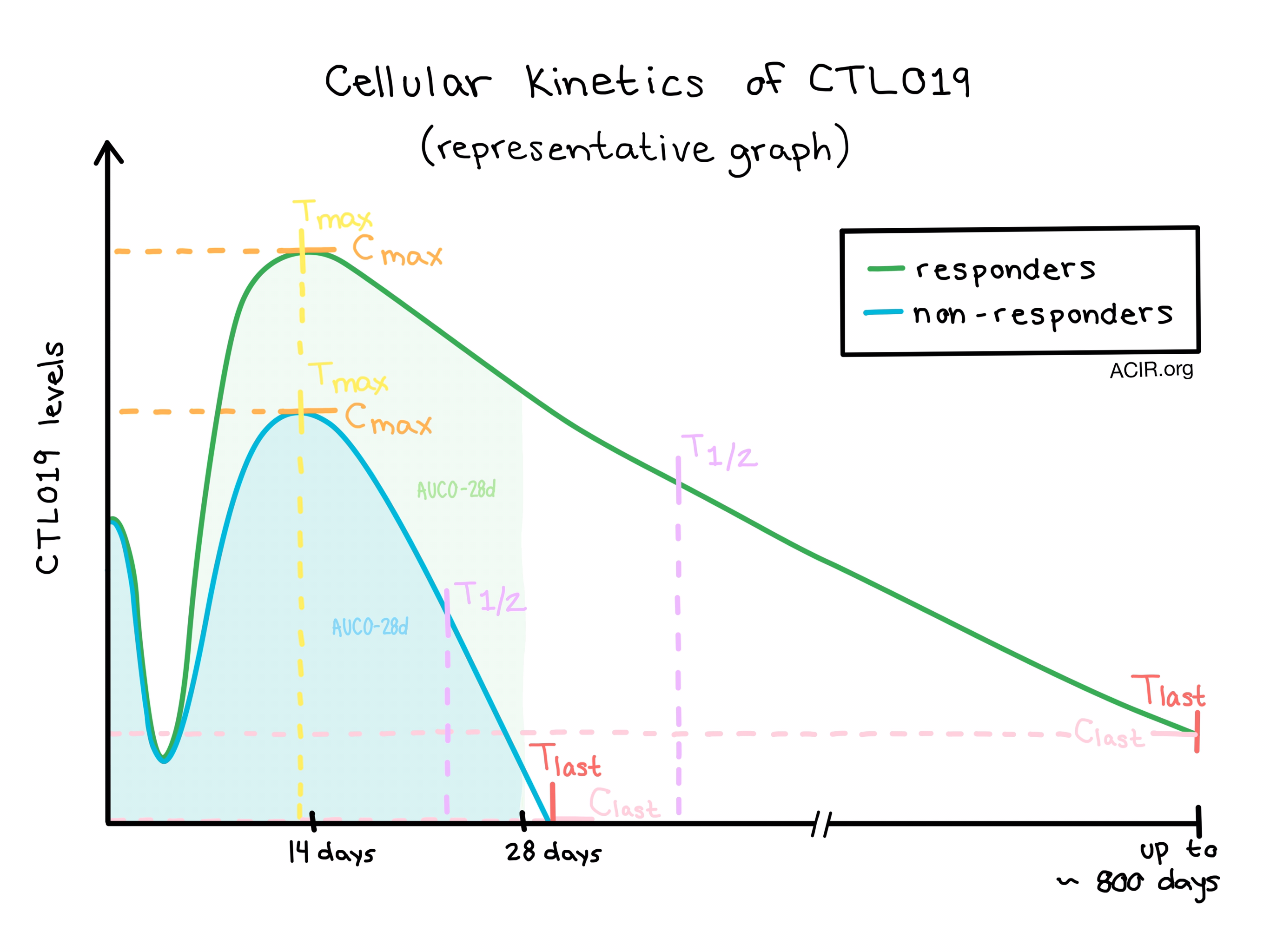 Therapies in which T cells are engineered to express a chimeric antigen receptor (CAR) have proven to be incredibly effective against certain hematological malignancies. In recent months, two CAR T cell therapies have earned FDA approval, and it is likely this groundbreaking strategy will continue to expand. In an effort to understand the patterns of behavior of CAR T cell therapy within patients, Mueller et al. analyzed data from patients who had received the genetically-modified autologous T cell therapy tisagenlecleucel (CTL019) as a treatment for CD19+ relapsed or refractory chronic lymphocytic leukemia (CLL) or acute lymphoblastic leukemia (ALL). CTL019 is a cellular therapy in which a patient's own T cells are engineered ex vivo with a transgene for a CD19-targeting CAR and re-infused into the patient.
Differing from a pharmacokinetic analysis, which tracks the behavior of traditional molecular drugs within a system, Mueller et al.'s "cellular kinetic analysis", published in Blood, accounts for the in vivo proliferation of CTL019. The researchers analyzed data from a cohort of 103 pediatric and adult patients with ALL and CLL. They tracked CTL019 levels over time using two methods: qPCR tracked integration of the transgene into the genome of CD3+ cells, while flow cytometry measured surface expression of the CAR construct. Data from the two methods generally agreed, though in some patients there was evidence of integration of the transgene but not of functional expression of the CAR, suggesting some hindrance to either transcription or translation of the transgene.
The team tracked parameters of expansion, including maximum concentration (Cmax) and time of maximum concentration (Tmax), and parameters of persistence, including the terminal half life (T1/2), last measured concentration (Clast), and time of last measured concentration (Tlast). They also calculated the area under the curve for days 0-28 (AUC0-28d) as a measure of cumulative exposure to the therapy in the first 28 days following infusion.
Though there was variation between individual patients and subgroups, the cellular kinetics of CTL019 generally followed the same basic trend: immediately following intravenous infusion, CTL019 levels were high, then swiftly but transiently declined, possibly as cells distributed throughout the peripheral blood, bone marrow, and other tissues. CTL019 cells then expanded, reaching Cmax within two weeks of the initial infusion and declined slowly over weeks, months, or years.
Significant differences were observed between responders (patients with complete response, or complete response with incomplete blood count recovery) and non-responders; on average, responders had higher Cmax values indicating greater expansion, and higher T1/2 and Tlast values, indicating longer persistence. Patients who experienced a complete response generally had high Cmax and AUC0-28d values, and patients with longer persistence tended to maintain longer event-free survival.
While expansion of and exposure to CTL019 cells generally correlated with positive clinical outcomes, it is also worth noting that patients with more exposure to therapy were also more likely to experience cytokine release syndrome (CRS) and suffer from neurological symptoms. Measurements of serum cytokine levels showed that cytokines including IFN-γ and IL-6 increased following infusion and remained high in patients who experienced CRS. Interestingly, higher pre-infusion tumor burden emerged as a significant predictor of the expansion of CTL019 as well as of CRS severity in patients with ALL, suggesting that greater exposure of infused CTL019 cells to target cells led to enhanced proliferation and activation. Tocilizumab, which was used to manage CRS in some patients, did not appear to hinder the expansion of CTL019.
As a measure of CTL019 trafficking, Mueller et al. tested for transgene levels in the bone marrow and cerebrospinal fluid and found that CTL019 cells did traffic to these tissues. Similar to results from peripheral blood, higher levels and longer persistence of CTL019 cells in the bone marrow correlated with improved patient outcomes. The observation that CTL019 cells trafficked to the cerebrospinal fluid could prove to be an important finding, as none of the observed patients with pediatric B-ALL patients had central nervous system relapses.
While this study was based on data from a fairly large cohort, differences in age, cancer type, pre-infusion tumor burden, exposure to prior therapies, and missing long-term data from non-responders still leave unanswered questions. The general kinetic trends and the differences in trends observed between responders and non-responders with respect to safety and efficacy, however, were clear and very consistent across diseases, and reflected the proposed mechanism of action of CAR T cells.
by Lauren Hitchings