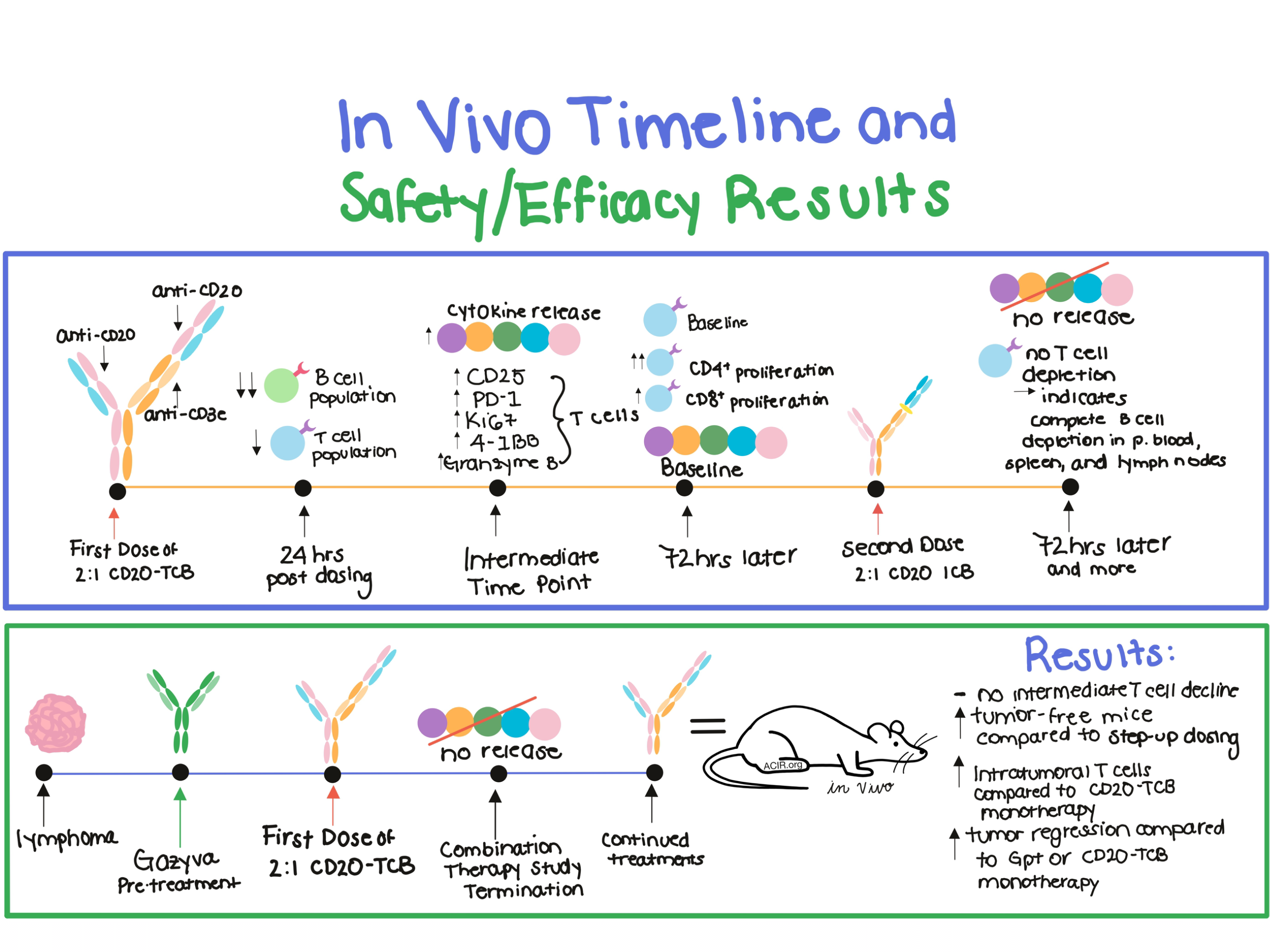 Approved therapies for non-Hodgkin's lymphoma, including the anti-CD20 antibody Rituximab, can be highly effective, but for patients who do not respond or who relapse, there are few options. In their paper published recently in Clinical Cancer Research, Bacac et al. describe their approach towards aggressive lymphomas by combining a high avidity CD20 T cell re-directing bispecific antibody (TCB) with a novel way to reduce treatment-associated toxicities typically associated with T cell re-directing antibodies.
Based on their previous research, the team designed a 2:1 CD20-TCB with two anti-CD20 Fabs and one anti-CD3 epsilon (CD3e) subunit Fab. One CD20 Fab was directly fused to the anti-CD3e Fab with a flexible linker in a 'head-to-tail' fashion; the other was on the opposite arm of the antibody. The humanized Fab regions came from the approved anti-CD20 monoclonal antibody obinutuzumab (Gazyva). Fcγ receptor binding was mostly abrogated with a mutation, but neonatal Fc receptor function was maintained to enable a longer circulating half-life. Tumor lysis experiments comparing 2:1 CD20-TCB to 1:1 CD20-TCBs demonstrated that 2:1 CD20-TCB was an average of 40 times more potent than the 1:1 CD20-TCBs. 2:1 CD20-TCB demonstrated high potency and significant target cell depletion as early as 24 hours after incubation, highlighting the ex vivo efficacy of the antibody.
In vivo studies were next performed in HSC-NSG mice. 24 hours after the first administration of CD20-TCB, peripheral blood B cells were largely depleted. Peripheral blood T cells had transiently decreased within 24 hours after administration, but returned to baseline 72 hours after dosing. Also noted at 72 hours post-dosing was the activation of peripheral blood T cells, showing proliferation of both CD4+ and stronger proliferation of CD8+ T cells, seen by upregulation of CD25, 4-1BB, PD-1, Granzyme B, and Ki67. After this first administration, transient release of multiple cytokines was observed in the blood of treated mice, which returned to baseline by 72 hours. Interestingly, a second administration of the antibody didn't induce a T cell decrease or cause cytokine release, indicating that there was complete B cell depletion in the peripheral blood after the first CD20-TCB administration. B cells were also eliminated in the spleen and lymph nodes of CD20-TCB treated animals.
Next, the team compared three doses of CD20-TCB in an HSC-NSG xenograft model of diffuse large B-cell lymphoma (DLBCL), a model poorly responsive to anti-CD20 IgG1 antibodies as well as other therapies. Three once-weekly dose levels were tested in this model, and all were effective at mediating B cell depletion and transiently decreasing T cells in the peripheral blood, while only the two higher doses induced dose-dependent regression of established (100 - 150 mm3) tumors.
Given the known safety issues associated with administering T cell re-directing antibodies, the team hypothesized that initial B cell depletion by pre-treatment with the anti-CD20 antibody Gazyva (Gazyva pre-treatment, or Gpt) would avoid cytokine-release syndrome following subsequent administration of CD20-TCB. The two agents were therefore tested alone and in combination (with Gazyva treatment preceding CD20-TCB) in WSU-DLBCL2-bearing HSC-NSG mice. The cytokine peak that was observed with the first administration of CD20-TCB alone was reduced with Gpt, a finding confirmed in cynomolgus monkeys. This finding demonstrated that Gpt caused a safe depletion of B cells in the peripheral blood and secondary lymphoid organs, preventing the T cell-mediated cytokine release seen with CD20-TCB administration alone. A direct comparison of Gpt+CD20-TCB to a commonly used clinical approach with TCBs of gradual B cell depletion by gradually increasing the dose (step-up dosing: SUD) showed that Gpt provided equivalent or better B cell depletion with superior safety. Importantly, both CD20-TCB monotherapy and Gpt+CD20-TCB increased intratumoral T cells to similar levels, and in the group receiving Gpt+CD20-TCB combination therapy, T cells didn't experience a transient decline. In addition, there were more tumor-free animals at the end of the study in the Gpt group compared to SUD. Later studies of two different DLBCL models showed that Gpt+CD20-TCB combination caused rapid tumor regression in all mice of both models when compared to Gpt or CD20-TCB monotherapy.
The work by Bacac et al. demonstrated the superior CD20-targeting ability of their novel 2:1 CD20-TCB therapy, the superior safety profile of pre-treatment with Gazyva in comparison to SUD, and the superior efficacy of combination therapy in murine models of lymphoma, advances which are now being tested in the clinic.
by Brynn Vessey