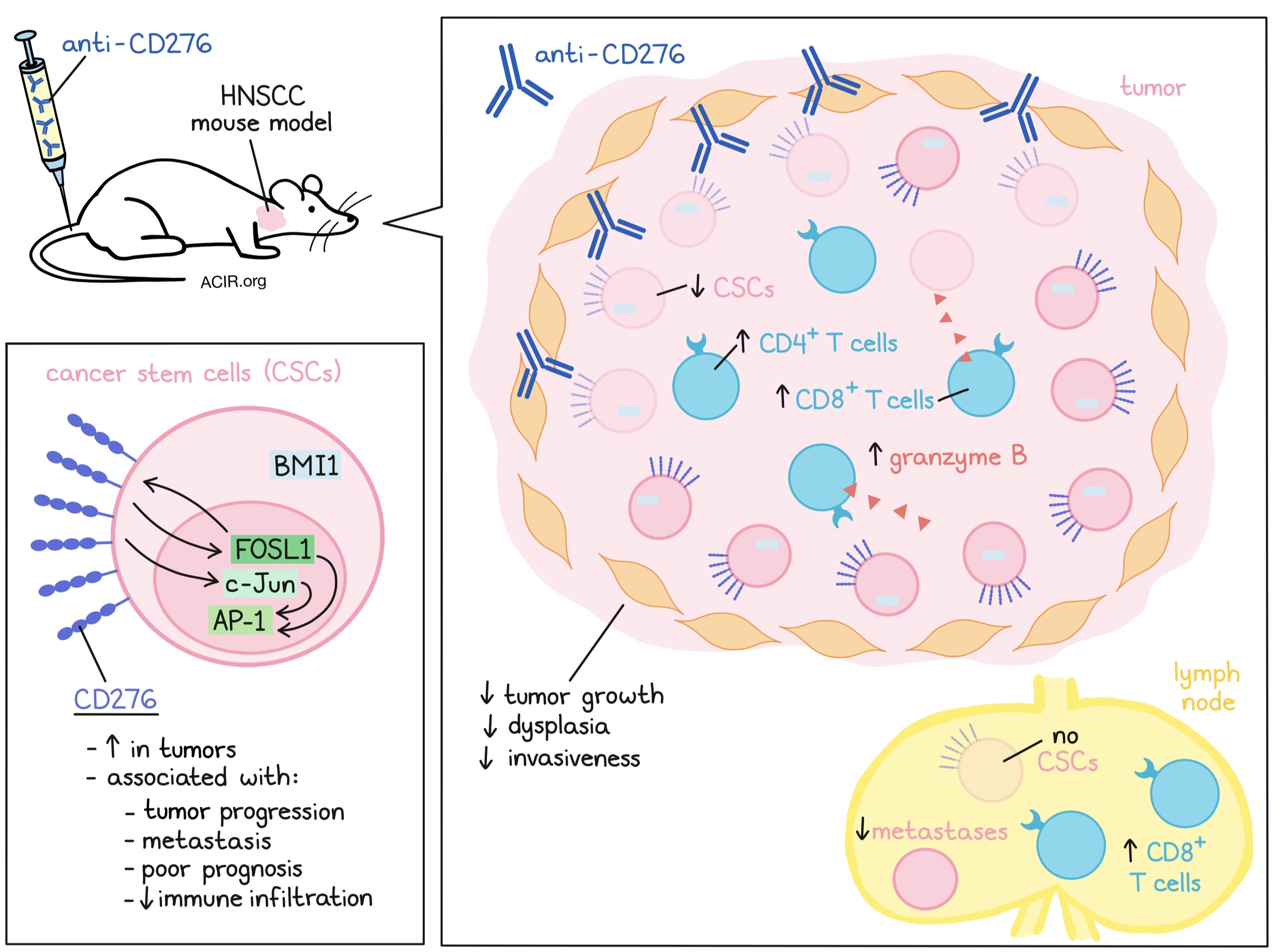 Cancer stem cells (CSCs) are considered the "seeds" of tumor metastasis, but how these cells escape the effects of chemotherapy and immune surveillance is unclear. Wang et al. previously detected CSCs with a limited expression of PD-L1 in head and neck squamous cell carcinoma (HNSCC). In an attempt to detect other targetable checkpoints expressed by these cells, the researchers investigated expression and modulation of another B7 family member, CD276 (B7-H3), in a mouse model for HNSCC. Their data were recently published in Cell Stem Cell.
The Bmi1CreER;RosatdTomato mouse model treated with 4-nitroquinoline 1-oxide (4NQO) to induce dysplasia (a pre-carcinoma state) and tumor growth was used as a model for HNSCC. CSCs can be isolated from this model based on BMI1 expression. To assess potential immunotherapeutic targets, the researchers analyzed RNAseq data from BMI1+ CSCs and non-CSCs isolated from this model and found higher mRNA levels of Cd276 and Cd80 in the CSCs. In TCGA data, CD276 expression negatively correlated with CD8A, CD8B, GZMB, and IFNg, while CD80 correlated positively with those markers. Based on this, the researchers considered CD276 as a potential checkpoint molecule in HNSCC.
Staining of CD276 on mouse tumor tissue confirmed that >90% of the BMI1+ CSCs expressed CD276 and were mainly located near the tumor-stromal interface and invasive margin. This was also true for non-CSC CD276+ tumor cells. Staining of tissue at various stages of tumor development showed that CD276 expression increased with tumor progression. In human tissue, CD276 expression was higher in tumor cells than in adjacent healthy tissue, with the highest expression at the tumor margin. Additionally, expression was higher in patients with lymph node metastasis, with metastatic tumor cells expressing higher levels of CD276.
The researchers sorted CD276high and CD276low EpCAM+ cells from patient-derived xenografts (PDXs) and performed tumor-sphere formation assays. The CD276high cells formed more abundant and larger spheres than the CD276low cells, enforcing the finding that CD276 demarcates CSCs. Gene expression analysis revealed that 842 genes were upregulated and 1,081 genes were downregulated in CD276high compared to CD276low cells. Upregulated genes were associated with known CSC signatures and epithelial-mesenchymal transition (EMT), while genes associated with keratinocyte differentiation were downregulated. Gene set enrichment analysis (GSEA) and TCGA data also showed upregulation of stemness and EMT gene signatures in cells expressing high levels of CD276.
Analyzing what upstream factors might contribute to CD276 upregulation, the researchers identified the transcription factors AP-1 and FOSL1, and knockdown of FOSL1 reduced CD276 expression. Overexpression of CD276 induced FOSL1 and c-Jun, which was inhibited when CD276 was knocked down, indicating that CD276 can activate AP-1 and suggesting the possibility of a positive feedback loop. This knockdown of CD276 also resulted in inhibition of tumor growth, invasion, and lymph node metastasis.
As CD276 might serve as an immune checkpoint, Wang et al. tested the effects of antibody blockade of CD276 in the Bmi1CreER;RosatdTomato mouse model. Treatment resulted in a reduction of tumor growth, dysplasia, and SCC numbers. In addition, it was rare for treated mice to develop highly invasive carcinomas, and tumors had a reduced invasive grade and depth. The treated mice also had fewer lymph nodes with metastases, and no BMI1+ CSCs were detected in the lymph nodes.
To assess these tumoral responses to the antibody in-depth, single-cell RNAseq was performed on the tumor tissue. UMAP analysis revealed six phenotypically distinct cancer cell clusters that were annotated based on cell type-specific markers. After antibody treatment, the clusters representing genes associated with partial EMT, high proliferative activity, and expression of MHC-II decreased, while clusters with genes associated with stress response and detoxification increased. These data confirm the reduced aggressiveness and low EMT in the treated tumors. Additionally, the RNAseq data confirmed a decrease in BMI1+ and CD276+ tumor cells.
To determine whether the immune response played a role in the effects of the CD276 antibody treatment, the researchers used a NOG mouse model, which is deficient in lymphocytes and NK cells. In this model, tumor growth was not inhibited, suggesting the immune response plays an essential role in the process. This was confirmed in vitro, where antibodies did not impact sphere formation, cell invasion, human organoid formation, nor did they inhibit AP-1 activation or expression of c-Jun or FOSL1 in organoids. Therefore, the antibody treatment did not directly affect the tumor cells, in contrast to the results with CD276 knockdown in tumor cells, which may have affected AP-1 activation.
To dive deeper into the effects of the antibody treatment, the researchers used their syngeneic mouse model of HNSCC. In this model, the CD276 antibodies increased apoptosis and the number of granzyme B+ cells. While there were few CD4+ and CD8+ T cells in untreated tumors, after treatment, there was an apparent increase in these T cells and a modest increase in NK cells, while the number of myeloid-derived suppressor cells was not affected. In addition, the number of CD8+ T cells in the lymph nodes also significantly increased, while the percentage of CD4+ T cells, macrophages, and NK1.1+ cells only marginally rose.
To determine the extent of the therapeutic effect of CD8+ T cells, the experiments were repeated with depletion of CD8α T cells. This significantly diminished the antitumor and anti-CSC effects of the anti-CD276 antibody. Inhibition of NK cells only slightly affected antitumor responses, suggesting the effects were primarily due to CD8+ T cell activity.
Finally, to confirm these data, the researchers assessed CD276 in TCGA data of patients with HNSCC. CD276 expression was higher in tumor tissue than in healthy tissue and was associated with a poor prognosis. Furthermore, CD276 was also inversely correlated with CD8+ T cell infiltration in HNSCC samples from two cohorts, as well as in TCGA.
These data suggest that CD276 might function as an immune checkpoint in HNSCC. If these data are confirmed in clinical trials, anti-CD276 might serve as a new treatment modality targeting CSCs, which have been associated with low PD-L1 expression and might not be responsive to PD-1-targeting strategies.
Write-up by Maartje Wouters, image by Lauren Hitchings