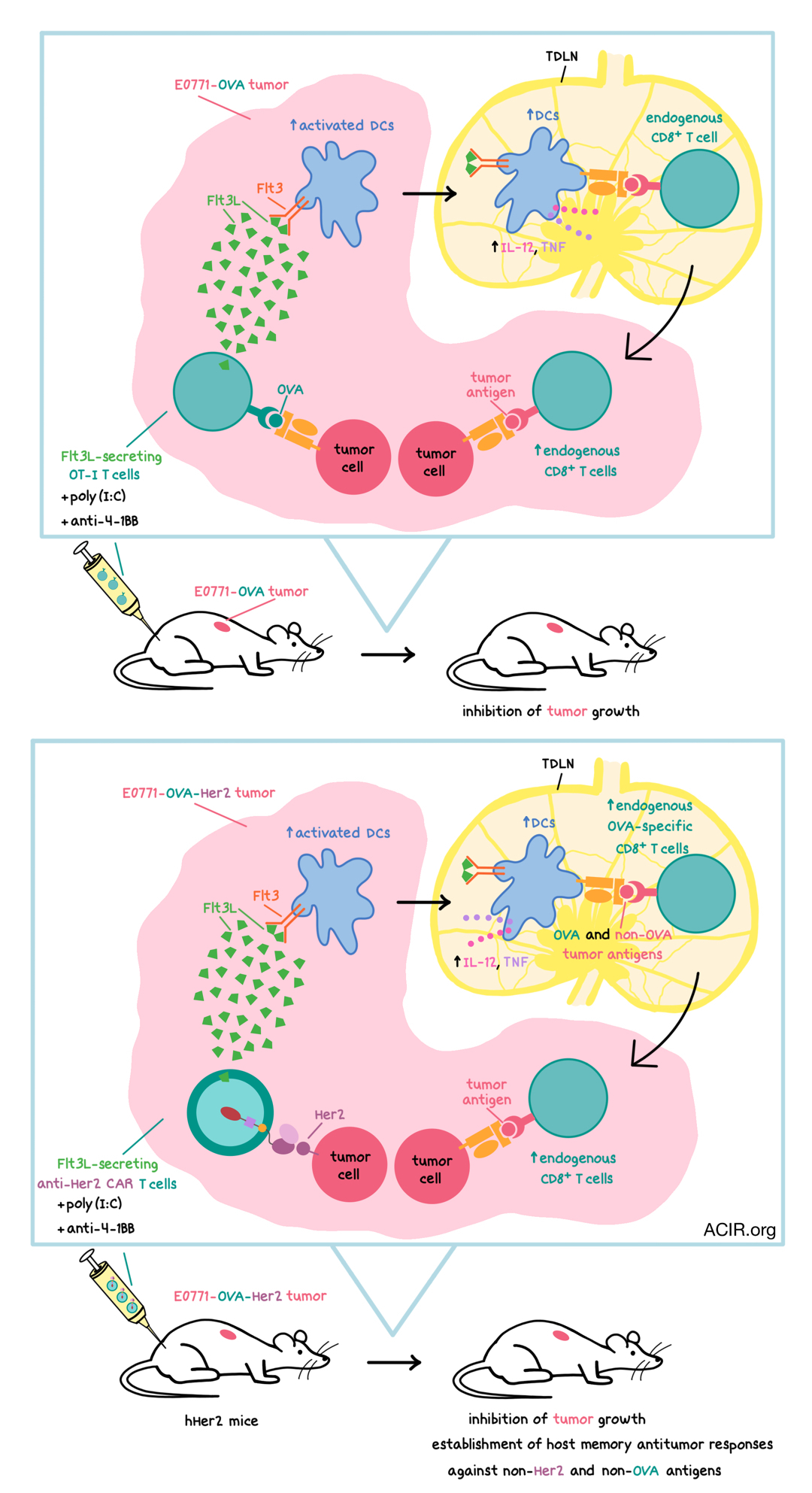 As tumor antigen heterogeneity limits the efficacy of engineered TCR and CAR T cells against solid tumors, Lai and Mardiana et al. engineered T cells that express and secrete the dendritic cell (DC) growth factor Flt3L in order to more fully engage the endogenous immune system in the fight against the cancer. The successful results of this approach were recently published in Nature Immunology.
The researchers began by engineering Flt3L-expressing murine 24JK-Her2 sarcoma and MC38 colon adenocarcinoma, and showed that after initial establishment in mice, Flt3L-expressing tumors spontaneously regressed, which in turn increased mouse survival, while their WT counterparts grew out of control. Mechanistically, tumor-expressed Flt3L increased intratumoral conventional type 1 DCs (CD103+ cDC1s) and CD8+ T cells, and increased migratory and resident DCs within tumor-draining lymph nodes (TDLNs). The enhanced antitumor effect was dependent on T cells, and the strength of the antitumor responses was dependent on the dose of Flt3L. Together, these experiments showed that intratumoral Flt3L expression played a critical role in DC-dependent and T cell-mediated inhibition of tumor growth.
Next, the researchers transduced T cells with a retroviral vector to create Flt3L-secreting T cells. In vitro, T cell-secreted Flt3L promoted the proliferation of bone marrow-derived DCs, including CD103+ DCs, in a concentration-dependent manner. OVA peptide-pulsed DCs differentiated in the presence of T cell-secreted Flt3L (FL-DCs) induced higher cytokine production in OVA-specific OT-I T cells than DCs differentiated without Flt3L and only with GM-CSF (GM-DCs); this effect was further significantly boosted by poly(I:C) activation of CD103+ DCs. FL-DCs drove the differentiation of OT-I T cells preferentially toward a central memory-like phenotype (which may be advantageous for adoptive cell therapies), and increased the proliferation of T cells to a greater extent than GM-DCs.
To test the potency of Flt3L-secreting T cells in vivo, mice bearing E0771-OVA breast carcinomas underwent lymphodepleting preconditioning and were treated with an adoptive transfer of either Flt3L-secreting OT-I T cells (OT-I FL) or OT-I T cell controls. OT-I FL treatment increased intratumoral and serum levels of Flt3L and increased the proliferation of cDC precursors, especially cDC1 precursors, in the bone marrow and in the tumors. OT-I FL treatment also increased intratumoral cDC1s and to a lesser extent cDC2s, but not macrophages or neutrophils. Tumor antigen-specific T cells were necessary to promote cDC1 expansion. Importantly, OT-I FL treatment led to an enhanced recruitment of endogenous CD8+ T cells, but not Tregs, into the tumors of mice. In addition, the researchers saw higher percentages of the less differentiated, more stem-like CD62L+TCF-1+ OT-I cells within tumors.
Gene expression analysis of tumors concordantly showed upregulation of DC-related genes, DC activation and effector function genes, and DC-derived T cell chemoattractant genes. Cytokine-related genes (Ifna1, Stat4) and genes for chemokines required for XCR1+ DC recruitment (Xcl1, Ccl5) were also upregulated with OT-I FL treatment. The treatment also enhanced the intratumoral production of IL-12 and TNF by cDC1s and cDC2s, respectively. Numbers of migratory and resident DCs were increased in TDLNs, and cDC1s and cDC2s were increased in spleens. Thus, these experiments demonstrated that Flt3L-secreting T cells engaged the immune system of the host and increased the presence of endogenous DCs and CD8+ T cells within tumors.
The researchers then explored the antitumor effects of OT-I FL cells. In an early treatment setting (E0771-OVA tumors established 5 days prior to adoptive transfer), OT-I FL cells inhibited tumor growth to a greater extent than OT-I cells. In larger tumors (tumors established 9 days prior to adoptive transfer), OT-I FL cells in combination with immune agonists poly(I:C) and anti-4-1BB led to a strong antitumor response and significant inhibition of tumor growth. In this setting, all three components of this combination treatment were required for a robust antitumor effect, which was dependent on endogenous T cells and Batf3-dependent cDC1s.
Gene set enrichment analyses indicated that the agonistic adjuvants led to the upregulation of genes related to cytokine-mediated signaling and inflammatory response, including type I IFN signaling genes, Tnf, and Ifnl2. The addition of adjuvants also increased the percentages of CD39+TIM-3+ activated endogenous CD8+ T cells within tumors, and increased the numbers of activated DCs and endogenous IFNγ+CD8+ T cells in TDLNs. TCR Vβ analysis of endogenous CD8+ T cells revealed that the combination of OT-I FL cells plus adjuvants led to a significant expansion of three Vβ clonotypes within the tumor-draining lymph nodes of treated mice, suggesting that the treated mice mounted an endogenous tumor-specific T cell response via epitope spreading, although the specific epitopes were not identified. Some of the highly expanded clonotypes were also found in tumors, further supporting this conclusion.
Lai and Mardiana et al. then explored the antitumor response of Flt3L-secreting CAR T cells. To this end, the researchers transduced T cells with an anti-human Her2 CAR and Flt3L (CAR T FL), inoculated immunocompetent, transgenic hHer2 mice with Her2-expressing E0771-OVA tumors, and then treated the mice with CAR T FL. CAR T FL had similar effects on DC subsets and their precursors as the OT-I FL cells. The combination of CAR T FL and the adjuvants poly(I:C) and anti-4-1BB led to a significant inhibition of tumor growth. To eliminate the potential immunogenic effects of the OVA antigen, the researchers also tested CAR T FL in mice with MC38-Her2 tumors, which are resistant to anti-Her2 CAR T cell monotherapy. The combination of CAR T FL and poly(I:C) significantly reduced tumor growth, and this was dependent on functional host Batf3-dependent DCs and T cells. Adding anti-4-1BB to this combination treatment further enhanced the antitumor effect in more established tumors.
In mice with E0771-OVA-Her2 tumors, the researchers observed that the combination of CAR T FL and the two adjuvants increased the frequency of host OVA-specific CD8+ T cells in the blood. The numbers of endogenous activated DCs, endogenous CD8+ T cells, and total and activated endogenous OVA-specific CD8+ T cells were also increased in the tumor-draining lymph nodes. Together, these observations indicated that the combination treatment induced epitope spreading and led to host antitumor responses toward non-Her2 antigens, suggesting that CAR T FL cells would be well equipped at mounting an antitumor response against heterogeneous solid tumors. To confirm this, the researchers inoculated mice with a 50:50 mix of E0771-OVA-Her2 and E0771-OVA tumors, and showed that treatment with CAR T FL plus adjuvants reduced tumor growth significantly more than CAR T plus adjuvants, thus confirming their hypothesis. When cured mice were rechallenged with parental tumor lines lacking both OVA and Her2 antigens, the rechallenged mice experienced significantly enhanced tumor growth inhibition compared with naive controls, indicating the establishment of host memory antitumor responses against non-Her2 and non-OVA antigens. Importantly, the combination therapy was well tolerated, without any significant toxicities.
Overall, Lai and Mardiana et al. showed that Flt3L-secreting "armored" T cells promoted the expansion and differentiation of host cDC1s, which, in combination with immune agonists poly(I:C) and anti-4-1BB, induced endogenous epitope spreading and enhanced the inhibition of tumor growth in solid tumor models. This approach holds the potential for clinical translation as a way of addressing tumor heterogeneity and reducing the risk of antigen-negative tumor escape.
by Anna Scherer

This week, first co-author Junyun Lai answered our questions.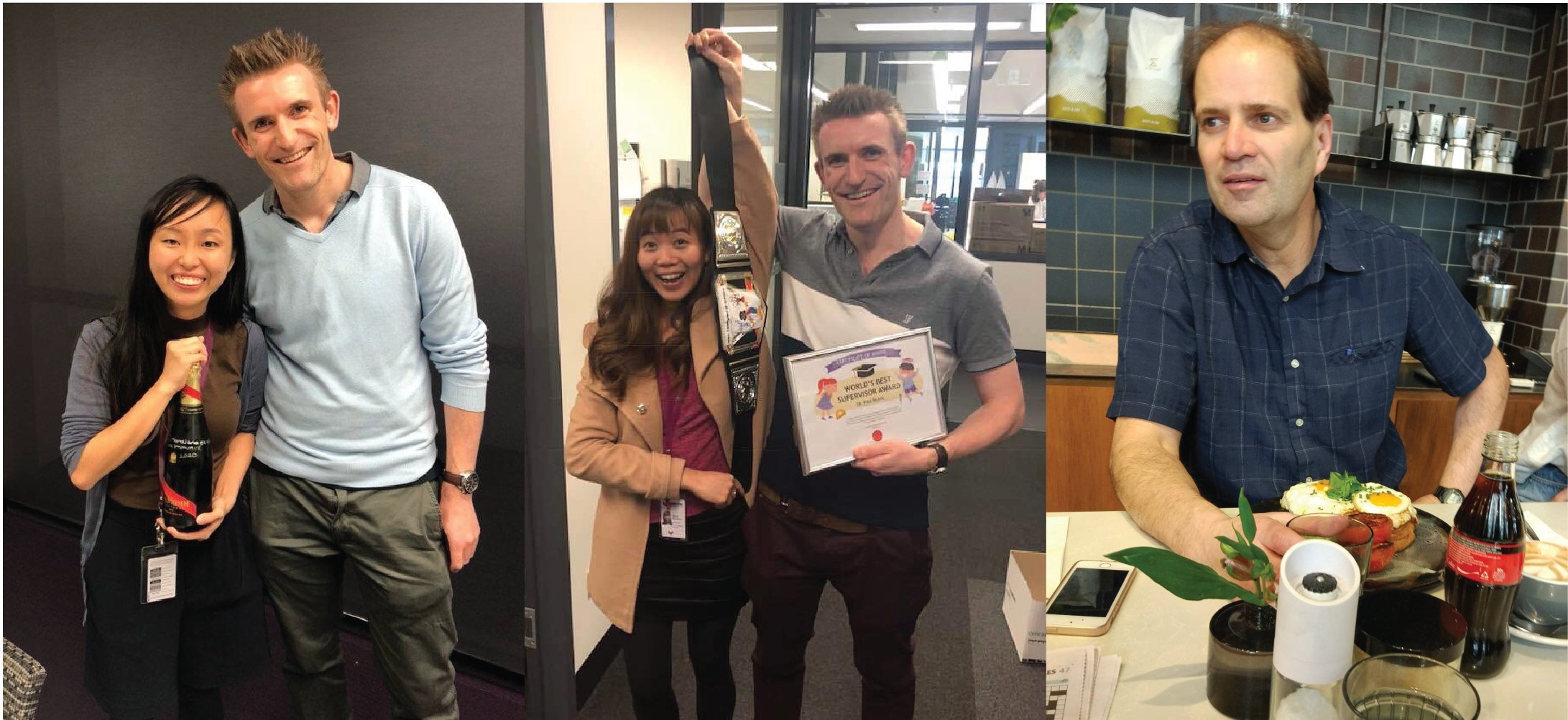 What prompted you to tackle this research question?
Adoptive cellular therapies using genetically modified T cells, such as CAR T cells, often involve engineering of these T cells to recognise a single or few tumour antigens. However, we know that in the patient setting, it is common to find variability in antigen expression across different cells within the same tumour tissue. This heterogeneity in tumour antigen expression poses a significant hurdle in the successful utility of these T cells to treat solid cancers, as treatment may inadvertently result in subsequent relapse from tumours that were not eliminated by these T cells in the first place. Given the established role of conventional type 1 dendritic cells (cDC1s) in cross-presenting tumour antigens, we were interested to find out whether boosting cDC1s could be a potential strategy to engage host endogenous T cells in the overall antitumour response.

What was the most surprising finding of this study for you?
We were able to detect changes in TCR clonal diversity under the combination of Flt3L-secreting T cells and immune adjuvants at early time points. This was observed by using both TCR sequencing and flow cytometry-based TCR Vβ repertoire staining of tumour-draining lymph nodes. These data gave us the first indication that increasing and activating cDC1s were indeed inducing changes to the host T cells, prompting us to design subsequent experiments to address host T cell epitope spreading in the CAR T cell model.

What was the coolest thing you've learned (about) recently outside of work?
I love food and enjoy cooking but I don't often have the time or energy to dish up something fancy at home after a long day of work. This work-from-home situation has given me an opportunity to explore new recipes. The most useful hack that I've recently learned from my cousin (who's a chef at an Italian restaurant) is to use wonton wrappers (traditionally used to make Cantonese style dumplings) to make ravioli. Tried and tested, it absolutely works!