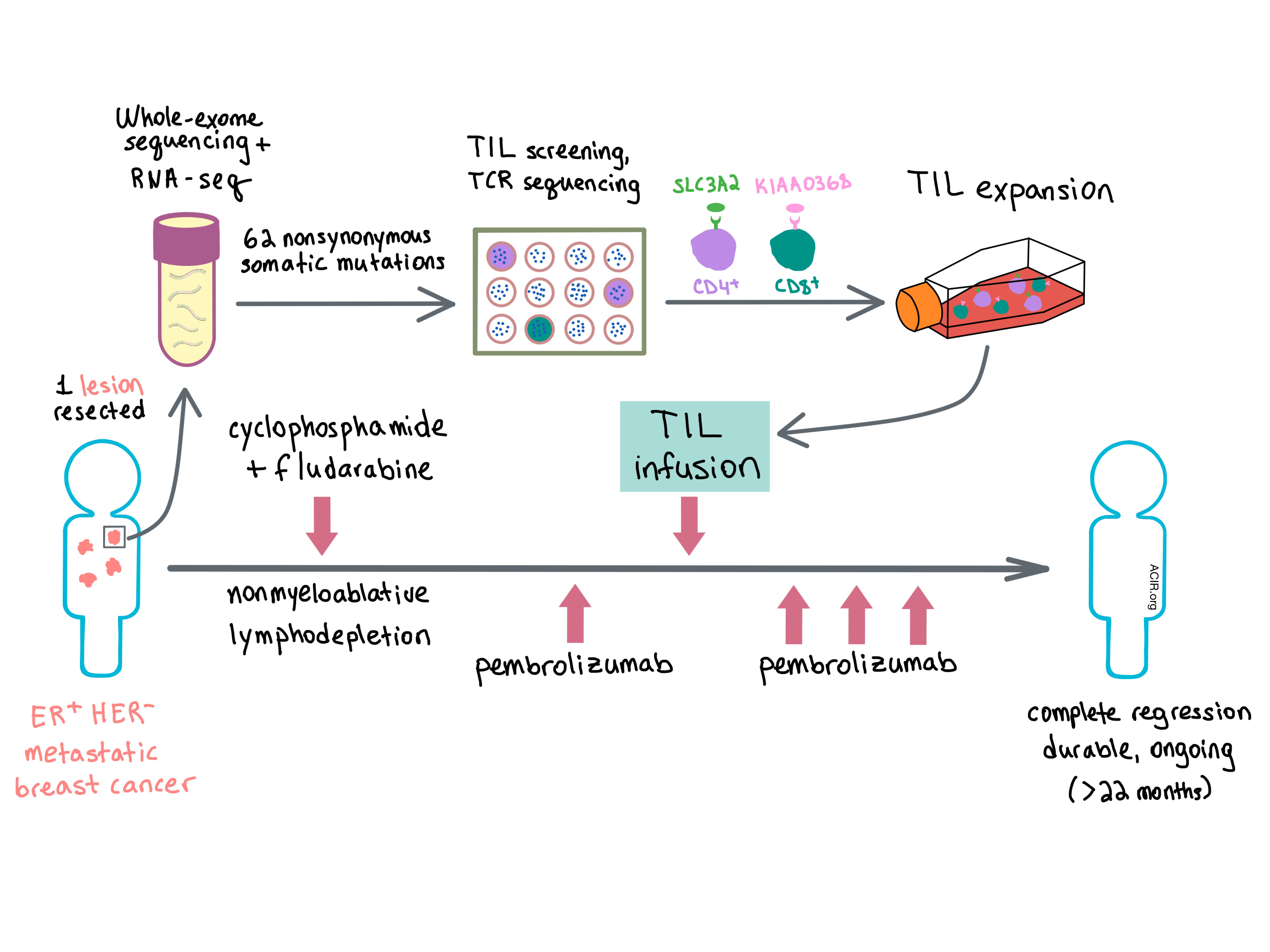 In a paper recently published in Nature Medicine, Zacharakis et al. report the case of a 49-year-old woman with estrogen receptor (ER)-positive, HER2-negative metastatic breast cancer, refractory to multiple lines of chemotherapy, who was enrolled in a phase II clinical trial that evaluated the efficacy of autologous tumor-infiltrating lymphocytes (TILs) in reducing tumor burden in metastatic epithelial cancers. Selection of TIL subpopulations reactive against tumor-specific neoepitopes may have dramatically improved efficacy in this low-mutation-rate tumor type.

Zacharakis et al. performed whole-exome sequencing and RNA-seq on one of the lesions and found 62 nonsynonymous somatic mutations. To determine which of these mutations yielded antigenic peptides, the team cultured TILs with high-dose IL-2 and screened them for reactivity using pulsed peptide pools or transfected mRNA of tandem minigenes expressed in autologous antigen-presenting cells (APCs). The screening revealed three neoantigen-reactive TIL fragments, with CD4+ TILs recognizing mutant SLC3A2 protein and CD8+ TILs reactive against mutant KIAA0368 protein. In order to isolate neoantigen-reactive T cell clonotypes, the team sorted reactive TILs by TCR-β variable region (TRBV) allotypes or high expression of the 4-1BB activation marker and performed TCR-focused deep sequencing. This led to the identification of seven TCR clonotypes that recognized SLC3A2 and one TCR that recognized KIAA0368.
Following the identification of neoepitope-specific TCRs, the patient was treated with a total of 8.2x1010 TILs from the three neoantigen-positive TIL fragments administered in 7 doses every 8 hours. Prior to TIL infusion, the patient underwent nonmyeloablative lymphodepletion via chemotherapy (cyclophosphamide and fludarabine) and a single infusion of pembrolizumab (anti-PD-1). Pembrolizumab was also administered 3, 6, and 9 weeks after TIL infusion. TILs consisted of 62.5% CD4+ T cells with an effector memory phenotype and 33% CD8+ T cells. About 21% of TILs expressed PD-1 at the time of infusion. Six weeks after TIL infusion, target tumor lesions shrunk by 51%. Even more remarkably, at the most recent evaluation, 22 months after cell transfer, the patient achieved a complete radiographic resolution of all target and nontarget lesions.
The researchers had originally added pembrolizumab to TIL treatment in order to prevent T cell exhaustion in the tumor microenvironment. Having achieved tumor regression, they retrospectively assessed the role that anti-PD-1 may have had on the success of the therapy. They analyzed two tumor samples obtained prior to cell transfer and found no PD-L1 expression in tumor cells of either lesion, while PD-L1 was expressed in the stromal cells of one tumor sample. PD-1 expression on peripheral blood T cells remained relatively constant over the course of 2 years. Based on this data the authors suspect that pembrolizumab did not play a significant role in antitumor response.
The team analyzed the clonotypes of infused TILs and peripheral blood T cells and found that the eight originally identified reactive TCRs, constituting 23% of TRBV sequences at the time of transfer, were present at about 2% in peripheral blood 6 weeks after transfer. Additionally, the researchers identified two other TRBV families that expanded significantly in the blood after treatment and contained at least one dominant TCR clonotype. Further analysis revealed a CD8+ T cell clone recognizing mutant CADPS2 protein and two CD4+ T cell clones reactive against mutant CTSB protein. Of the 11 total neoantigen-reactive TCRs identified, eight persisted in peripheral blood for at least 17 months after treatment.
Overall, Zacharakis et al. show in a single patient that autologous TIL transfer can be highly effective in a tumor with a relatively low mutational burden when the TILs are enriched for neoantigen-reactive T cells that target multiple tumor antigens to prevent immune escape, further opening the door to personalized TIL or TCR therapies.
by Anna Scherer